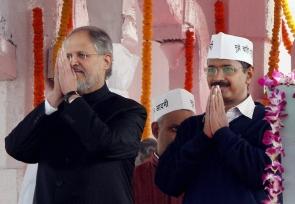 Lashing out at Najeeb Jung for not recommending dissolution of the House as per the Cabinet's decision, Arvind Kejriwal, who resigned as Delhi chief minister on Friday, said the Lieutenant Governor was "openly flouting" the decisions taken by a majority government.
"I am questioning the logic of his decision (of not recommending dissolution of the House)," Kejriwal said, adding that the Constitution says that he is bound by the decision taken by the Cabinet of a majority government.
"He did not agree to many of our decisions. Our Cabinet took a decision of having this session outside the House. He did not agree to that. He was openly flouting the Constitution, I don't know why," he told news channels.
In his resignation letter, Kejriwal had recommended to Jung that the House should be dissolved and fresh elections should be held.
In his letter to President on Saturday, sources said, the Lieutenant Governor has sent a "factual report" on the situation in the national capital.
"The Aam aadmi Party also wants this and even the BJP has favoured re-election today. I don't know on what basis Najeeb Jung has taken this decision. This decision is completely wrong because any recommendation by an elected government is normally binding (on the Lieutenant Governor)," Kejriwal said.
He claimed that the decision to recommend dissolution of the House was of a majority government.
"Ours was not a minority government. Before resignation, we had got passed a money bill in the assembly. This means ours was a majority government. If a majority government recommends something then it is mandatory for the governor to accept the recommendations," he added.
He alleged that the decision was taken because the Congress did not want fresh elections.
When specifically asked whether the Lieutenant Governor was acting at the behest of the Congress, Kejriwal said that was not the case.
Image: Arvind Kejriwal with Lieutenant Governor Najeeb Jung in happier times