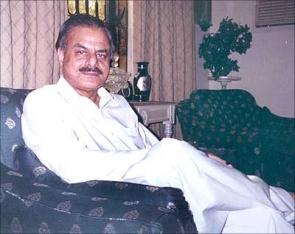 Top Lashkar-e-Tayiba bomb expert Abdul Karim Tunda told interrogators that he had come in contact with Pakistan's spy agency Inter Services Intelligence after meeting former ISI Chief Hamid Gul in 1995 and was in constant touch with him thereafter.
Delhi police officials said Tunda, a close aide of underworld don Dawood Ibrahim, had met Gul after reaching Pakistan via Saudi Arabia.
Investigators said the 70-year-old terrorist has told them that that ISI had several other tanzeems (organisations) like the LeT and the Jamaat-ud-Dawa under its umbrella to carry out various tasks.
Tunda, who was holding a Pakistani passport with the name Abdul Quddus, was arrested on Friday from an area on the Indo-Nepal border after being on the run in several countries for 19 years.
During his stay in Pakistan, Tunda told the police he had been in touch with organisations like ISI, LeT, Jaish-e-Mohammed, Indian Mujahiddin and Babbar Khalsa.
He had met several terrorists including Hafiz Saeed, Maulana Masood Azhar, Zaki-ur-Rehman Lakhvi, Dawood Ibrahim and several others wanted by India.
"Tunda has told us that most of the current LeT operatives are Punjabis. They are paid a meager sum of Rs 3000-4000 per month," said a senior police official.
Gul, who served as the director general of the ISI between1987 and 1989, rubbished these claims.
"I retired from the ISI on June 1 1989. Tunda has claimed to know me in 1995, by that time I was retired from service. I don't know Dawood Ibrahim. I don't know Tunda. I don't like his name. If I would have met him, I would have asked him to change his name," Gul said.
"The Indian media is going completely head over heals. In intelligence terms, it is called paper milling -- people make up funny stories. I am prepared to go before any investigation team," he said.
Tunda will be produced before a local court on Tuesday by the Delhi police, who will seek his custody for further interrogation, the official said.
Delhi police officials, terming the scope of his interrogation a 'vast canvas', said they are currently concentrating on collecting information from him about the networks and structure of various anti-India organisations in Pakistan.
Tunda, who had earlier worked as a carpenter, scrap dealer and a cloth merchant, now runs terror outfits in Karachi and Lahore. He used to stay in Lahore with his three wives, police sources said.
"Tunda didn't say he was involved in the business of fake Indian currency notes but he knows everybody. He has admitted that he had met Iqbal Kana -- the fake currency kingpin handled by the ISI," police said.
Meanwhile, the home ministry has complimented the Delhi police and central security agencies for arresting Tunda.
"It was extremely good work done by the agencies and Delhi police. It demonstrates the excellent synergy among all organisations," said Union Home Secretary Anil Goswami.
The home secretary said the ministry was looking forward to more such successes in the future.
"We hope more successes will be achieved by all of them working in tandem in the future too," he said.