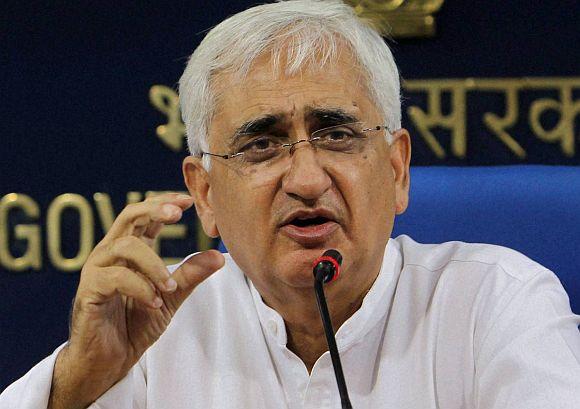 Hitting back at Gujarat Chief Minister for his comments on Sir Creek, External Affairs Minister Salman Khurshid today said Narendra Modi should not 'compromise on national interests' for electoral gains.
Questioning the source of his information, Khurshid, said India and Pakistan are holding dialogue on several crucial issues, including Sir Creek and 'we have not told him anything about these discussions. So how does Mr Modi know, unless someone is briefing him from across the border'.
Modi, on Wednesday, shot off a letter as a 'common man' to Prime Minister Manmohan Singh demanding that the disputed Sir Creek should not be handed over to the neighbouring country.
The Prime Minister's Office had strongly rebutted the charge by saying the allegations were 'baseless' and 'mischievous'.


"The allegation in the letter that Sir Creek is about to be given to Pakistan is untrue. The other conclusions drawn by Modi on this alleged fact are also not real," the PMO said responding to Modi's letter.
Khurshid, who is on a three-day visit to Myanmar, also said Modi should focus on his "elections and leave the running of the country to us."
The external affairs minister added that India and Pakistan are holding comprehensive   dialogue and have decided to work on 'doables' and Sir Creek was one of them but Modi should know these issues are not resolved overnight.
"But he does not understand the meaning of dialogue," Khurshid added.