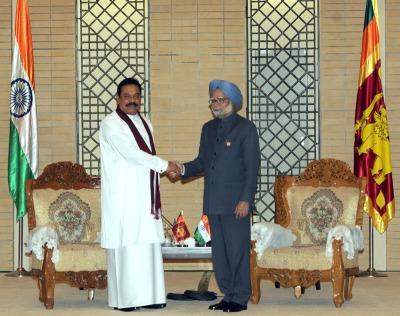 Brushing aside opposition from the Dravida Munetra Kazhagam and other parties in Tamil Nadu, Prime Minister Manmohan Singh on Tuesday met Sri Lankan President Mahinda Rajapaksa but did not give him any assurance on which way India will vote on a the United Nations Human Rights Council resolution for an independent international probe into rights abuses during the war with the Liberation Tigers of Tamil Eelam.
The draft resolution, tabled at the UNHRC in Geneva on Tuesday, briefly figured during the 25-minute meeting Singh had with Rajapaksa here on the margins of the Bay of Bengal Initiative for Multi-Sectoral Technical and Economic Cooperation Summit.
"There was no substantive discussion on the draft resolution. Given that it has important implications for both Sri Lanka and India, it was felt that the two sides should remain in touch on the issue," External Affairs Ministry spokesperson Syed Akbaruddin told reporters after the talks.
The resolution sponsored by United States, the United Kingdom, Montenegro, Macedonia and Mauritius urged the UN High Commissioner for Human Rights Navi Pillay to assess progress toward accountability and reconciliation, monitor relevant national processes and to investigate alleged violations and abuses of human rights and related crimes in Sri Lanka.
Parties in Tamil Nadu, especially the DMK, which snapped its alliance with the United Progressive Alliance last year, have attacked the prime minister on his plans to meet Rajapaksa. They said it would be construded as a betrayal of Tamil interests. They want India itself to move the resolution in the UNHRC seeking punishment for those responsible for the alleged war crimes in Sri Lanka.
The resolution welcomed Pillay's recommendation on the need for an independent and credible international investigation in the absence of a credible national process with tangible results
Sri Lanka has come under increasing international pressure to probe allegations of excessive civilian deaths during the final battle between the Army and the LTTE that ended in May, 2009.
Colombo has earlier rejected a call by the UN for an independent international probe into allegations of war crimes and slammed it as "unwarranted interference".
Singh had decided not to travel to Sri Lanka in November last year to attend the Commonwealth Heads of Government Meeting due to pressure from Tamil Nadu political parties, Congress leaders as also within government.
India has underscored the need for Sri Lanka to reach out to the Tamil community as part of the reconciliation process.
The prime minister also raised the issue of Indian fishermen caught by Sri Lankan navy for allegedly violating their territorial waters. He said this involved livelihood issues and needed to be addressed in a humane manner.
The two leaders also discussed economic and trade issues, the spokesperson said.
Image: Prime Minister Dr Manmohan Singh with the President of the Democratic Socialist Republic of Sri Lanka Mahinda Rajapaksa on the sidelines of the third Summit of the Bay of Bengal Initiative for Multi-Sectoral Technical and Economic Cooperation at Nay Pyi Taw, in Myanmar. Photograph: PIB