For the fourth consecutive day, Monday, the Srinagar-Jammu National Highway remained closed for traffic in the wake of landslides at some places, even as higher reaches in Kashmir received fresh snowfall overnight.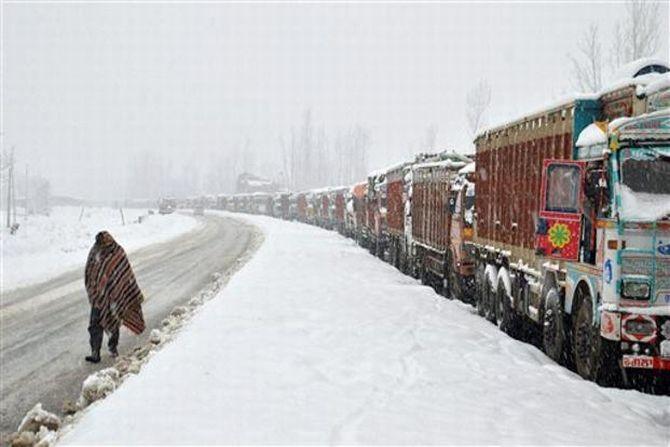 However, the Meteorological Department has forecast improvement in the weather. The highway remains closed as it is yet to be cleared off the debris due to landslides, an official of the Traffic Control Room told PTI.

He said landslides have occurred at many places along the nearly 300-km highway, the only all weather road link connecting Kashmir Valley with the rest of the country. There have been fresh landslides because of intermittent rains and snow, which have rendered the highway unmotorable, the official said. He said many vehicles are stranded along the highway and would only be allowed to proceed further once the debris is cleared. "The men and machinery are on the job, once the debris is cleared off, the stranded vehicles will be allowed, subject to weather conditions, to proceed further on priority," the official said.

Meanwhile, many areas in the higher reaches of the Valley received fresh snowfall overnight with the famous ski-resort of Gulmarg in north Kashmir recording 10 cm of snow, a MeT official said.
Gulmarg recorded the minimum temperature of minus 9.0 degrees, a drop of over five degrees from minus 3.4 degrees Celsius. Pahalgam hill resort in south Kashmir, which serves as a
base camp for the annual Amarnath yatra, recorded 7 cm of fresh snow and the mercury there settled at a low of minus 6.6, a decrease of over six degrees from 0.2 degree Celsius the previous night.
Kokernag town, also in south Kashmir, recorded nine cm of snow while the mercury there settled at minus 0.7 degree Celsius. Kupwara town, in north Kashmir, registered a low of minus 2.8 degree Celsius, while Qazigund, the gateway town to Kashmir Valley, recorded a low of 0.8 degree Celsius, the official said. Srinagar, the summer capital of the state, registered a low of minus 0.2 degree Celsius, compared to minus 0.7 degree Celsius, he said.

The official said Leh town in Ladakh region registered a low of minus 7.6 degrees Celsius, while the nearby Kargil town was the coldest recorded place in the state at minus 12.2 degrees Celsius.
The MeT has forecast scattered rains or snowfall over the Valley, Monday, while the weather is likely to remain dry on Tuesday.
Representative image. PTI photo