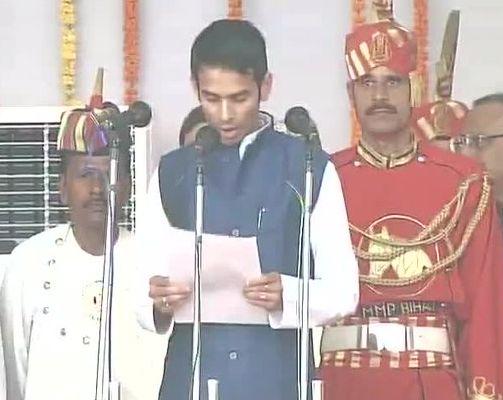 Making a rather pitiable first impression during his first swearing-in ceremony, Rashtriya Janata Dal chief Lalu Prasad's elder son Tej Pratap Yadav, was interrupted twice by Governor Ram Nath Kovind and asked to repeat after he misspelled part of his oath.
The scene occurred during the oath ceremony of the recently re-elected Nitish Kumar's return as Bihar CM.
The 28-year-old MLA was stopped twice by the governor during his two-minute long oath ceremony. "its apekshit, not upekshit (Its 'expected' not 'ignored')," the governor told Tej, who had to read his script twice.
On the other hand, his younger brother Tejaswi, who is set to be Nitish Kumar's deputy in the Bihar government, performed flawlessly.
The brothers have received prime spots in Nitish's cabinet, a major recompense for RJD chief Lalu Prasad, who has been barred from contesting elections because of his conviction in a corruption case.
While Tej Pratap won from the Mahua constituency by a margin of 28,155 votes, his younger son Tejaswi won the Raghopur assembly seat by a margin of 22,733 votes
The RJD would get 16 ministers whilst 15 would be from the Janata Dal-United and another five from the Congress are expected to be sworn-in at Patna's Gandhi Maidan in a grand ceremony, attended by many anti-Bharatiya Janata Party chief ministers and opposition leaders, including Arvind Kejriwal, Mamata Banerjee and Omar Abdullah.