'The navy and coast guard have not even come one nautical mile near the islands in distress,' P P Mohammed Faizal tells Rediff.com's A Ganesh Nadar.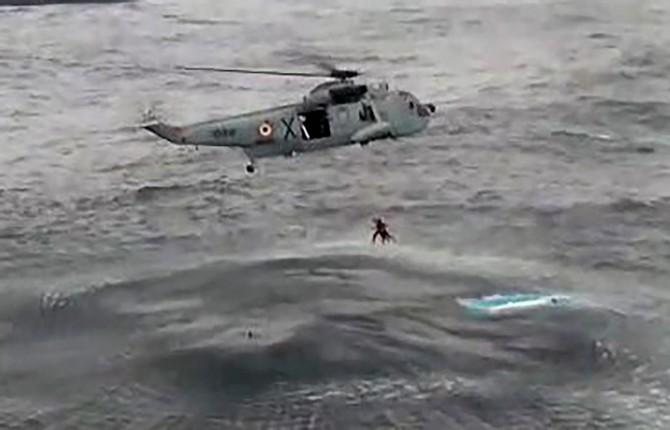 IMAGE: An Indian Navy helicopter rescues fishermen in the wake of Cyclone Ockhi, Lakshadweep, December 2, 2017. Photograph: PTI Photo/TV grab
After leaving a trail of destruction in the Kanyakumari district of Tamil Nadu, southern Kerala and the Lakshadweep islands, Cyclone Ockhi has been downgraded to 'severe' status from 'very severe' and is expected to slowly move over the western coast, approaching Maharashtra and Gujarat.
But the havoc it has left in its trail in the south is so severe that three days later, many fishermen are still to return home, even as the Indian Navy and Coast Guard launched massive rescue operations.
So severe was the cyclone that some 900 fishermen from Kerala were forced to find refuge in Sindhudurg, Maharashtra.
Despite the relief and rescue operations launched by the navy and coast guard, P P Mohammed Faizal, the member of Parliament from Lakshadweep, believes that the two agencies failed to respond promptly in tackling the cyclone crisis.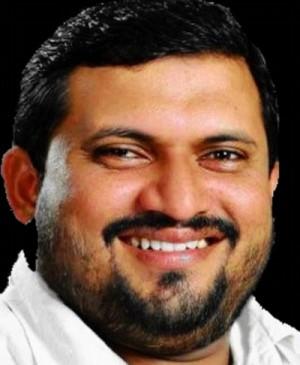 "We have not got adequate help from the navy and coast guard. They failed to respond promptly to the adverse situation. Whatever rescue operations have been carried out has been done by the Lakshadweep administration," the Nationalist Congress Party MP, left, told Rediff.com
"The navy and coast guard have not even come one nautical mile near the islands in distress." the MP added.
Minicoy and Kalpeni islands in the archipelago were the worst hit by the cyclone and several houses have been severely damaged, Faizal said, adding that no casualties have been reported so far.
Though the navy has said that several ships are on the way with supplies for a week, which consists of food, water, blankets and medical supplies, according to the MP not a single ship has reached the islands yet and nothing has been given so far by way of relief.
"For the last two days the island administration has been distributing free rice and other essential commodities to the people. They are looking after the people and providing all sorts of help, not the navy or coast guard."
While Faizal's wife and family are in Lakshadweep, the MP is stranded in Kochi.