'Pazhani was so happy in the army that he used to always declare, 'My son will also join the army'.'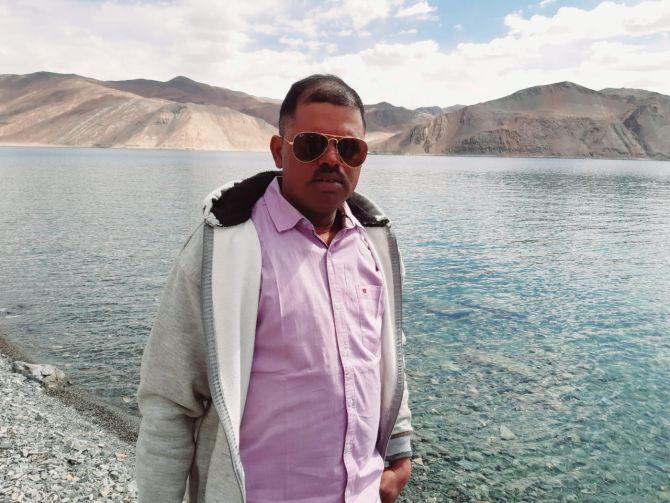 Twenty Indian soldiers were murdered by Chinese soldiers in the Galwan Valley in Ladakh on Monday night.
Among the martyrs is Havildar K Pazhani, 40, who belongs to Kadukkalur village in Ramanathapuram district, Tamil Nadu.
He leaves behind his elderly parents Kalimuthu and Logambal, wife Vanathi Devi, and children Prasanna and Divya.
His younger brother Idhayakkani -- who is also in the Indian Army and currently posted in Rajasthan -- broke the news to the family.
Pazhani, who has served the Indian Army for 22 years, last visited his home in January. The family last spoke to him on his wedding anniversary, June 6. After that, they said the cell phone reception was bad at his end, so he could not call them.
Professor A Anand, a cousin of Vanathi Devi, was with the family at their home in Kadukkalur and spoke to A Ganesh Nadar/Rediff.com about the martyred soldier.
"Pazhani was only 18 when he joined the army. All of us told him to retire after 16 years of service, but his colleagues and seniors did not allow him. They were very fond of him. He was very happy in the army, but he had promised that he would retire next year."
Pazhani got married in 2008. "Vanathi Devi is 32 years old, his son 10 years old and daughter eight years old," says Anand.
Both his birthday and marriage fall in June. He was born on June 3 and got married on June 6.
When he had come home in January he had arranged for a loan to build a house.
"The grihapravesam (house-warming) was on his birthday, June 3, but he did not get leave, so he could not attend the function," says Anand.
"He was so happy in the army that his brother also joined the army. He used to always declare, 'My son will also join the army'," Anand recalls.
Vanathi Devi has an MCom degree and a diploma in teaching.
Anand feels she must get a job as a teacher, as once she starts working her attention will be diverted to the children she teaches.
"If she stays at home she will be upset and miserable. Once she starts working she will be happy with the other children, it will also help her look after her own children," Anand adds.
When the district collector visited the family on Wednesday morning to pay his respects, Anand says the family requested him to provide a teacher's job to Vanathi.
"If you meet her, you will realise that she is very innocent and still talks like a child," her cousin adds.
The Tamil Nadu government has provided Rs 20 lakh to the martyr's family.