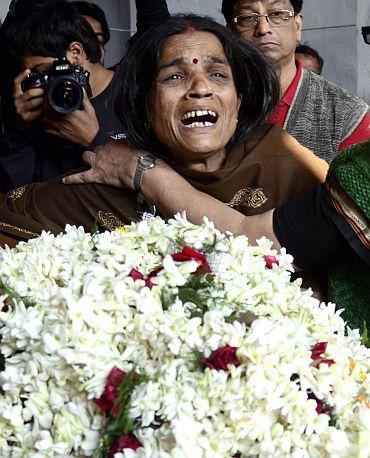 A murder case has been filed by the Kolkata police against the two main accused in the gang rape of the 16-year-old girl, who died because of burn injuries, even as doctors treating the teenager said she was pregnant at the time of her death.
The death of the girl has sparked outrage in the metropolis with the family of the victim alleging that they have been threatened to leave the state by the city police.
"We have filed a murder case against the two main accused on the basis of the final statement of the girl in which she had said that she was set on fire," Additional Commissioner of Police (Bidhannagar police) Anant told PTI on Thursday.
"The doctor who was treating the girl also told us that the girl was pregnant at the time of the death. We have send the foetus to the forensic science laboratory for determination of the age of the foetus," he said.
The victim, who was gangraped twice in October had died on December 31, following burn injuries. Her family members had claimed that she was burnt alive by the culprits. They met West Bengal Governor M K Narayanan on Wednesday and demanded death penalty for the rapists and security for the family.
The family had also alleged that they have been threatened to leave the state by the city police along with the body of their daughter.
According to reports, the girl was first gangraped on October 25 at Madhyamgram in the northern fringes of the city and found lying in a field near her house. She was forcibly taken away by the same gang and gangraped again when she was returning home with her parents after lodging a complaint with the local police station.
The severely injured girl was later found lying unconscious near the railway track at Madhyamgram the same day. Her family thereafter changed their residence from Madhyamgram to Dum Dum in the city.
Six people were arrested after local residents demanded immediate action against the gang, but the victim's family members alleged that on December 23, a close associate of the gang leader Chottu had visited their Dum Dum residence and threatened them with dire consequences if the girl did not withdraw her complaint. The girl received the fatal burn injuries the same day at her home.

Photograph: Abhiroop Dey Sarkar