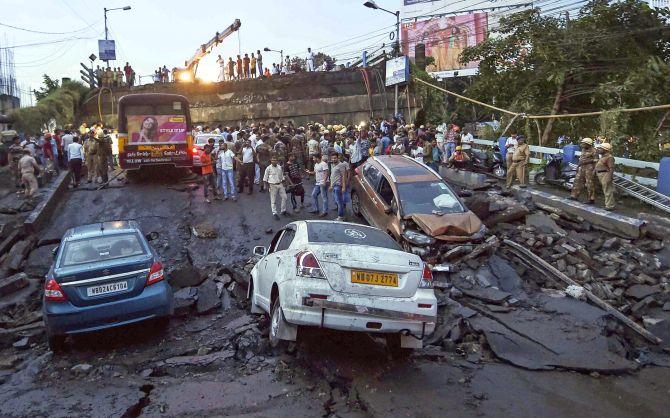 "We were working nearby and suddenly heard a loud bang. Then, we saw a portion of the bridge collapse," said a labourer engaged in metro railway work who witnessed the collapse of Majerhat bridge in Kolkata on Tuesday.
"It was around 4.45 pm. We saw a minibus, cars and bikes come down with the bridge. We ran towards the spot," he said.
The over 50-year-old bridge on the arterial Diamond Harbour Road in the crowded Alipore area connected the city centre with the heavily-populated Behala, the vast area of the south west suburbs and adjacent South 24 Paraganas district.
The road bridge ran over Majherhat railway station on Sealdah-Budge Budge line.
Another eyewitness said the bridge collapsed on the canal flowing under it, preventing a major tragedy.
"Had it collapsed on the railway tracks a major disaster could have occurred if a train arrived at that time," he said.
Shortly after the bridge collapsed, personnel from fire brigade, police and National Disaster Response Force reched the spot, eye witnesses said.
Locals too chipped in with the rescue work under way.
Cranes, iron cutters and drills were brought in to remove the debris.
A minibus, four cars and a few motorbikes damaged by the accident lay at the site as rescue workers tried to pull out the injured from the vehicles.
The rescue operation was continuing amidst intermittent rain.
As evening turned to night, power supply in the area was restored and additional arrangements were made to facilitate the fire brigade personnel trying to reach those still feared trapped underneath the tonnes of concrete.
"We are drilling on one side of the collapsed concrete to find whether anyone is trapped under," a fire brigade official said.
Nearby areas had been dug up for metro railway construction work and construction material are strewn all over the place.
The entire area has been cordoned off by police after curious onlookers gathered around the site of the accident.
Prantika Goswami, a student, who was in a minibus during the collapse of the bridge was injured and taken to a hospital.
"We were contacted by a person who asked us to rush to the spot immediately. We then took her to the SSKM hospital," said one of her relatives.