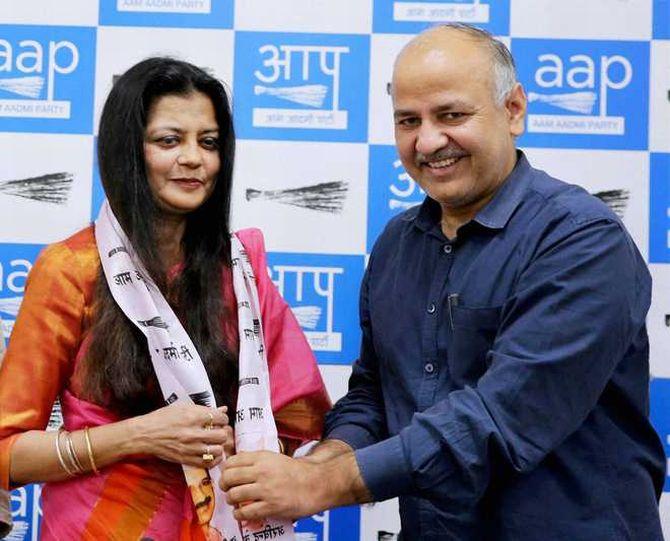 Poonam Azad, wife of suspended Bharatiya Janata Party MP Kirti Azad and a three-time national executive member of the party, joined the Aam Admi Party on Sunday, capping months of speculation.
Immediately after she joined the party in the presence Deputy Chief Minister Manish Sisodia and others senior leaders, AAP said Poonam will play a key role in upcoming Assembly elections in Punjab.
On her part, Poonam said she saw a bright future for youths in AAP and held Union Finance Minister Arun Jaitley responsible for her quitting the BJP.
Her husband Kirti Azad had launched a bitter attack on Jaitley over alleged corruption in Delhi and District Cricket Association during the Minister's tenure as its head.
Earlier in the Day, Poonam met Delhi Chief Minister Arvind Kejriwal.
Welcoming her to AAP, Sisodia said Poonam has been a champion for aam admi's rights and has been fighting the issues of people.
Senior AAP leader Sanjay Singh said Poonam will play an important role in the upcoming Punjab assembly election.
"Poonam Azad will play an important in the upcoming Punjab polls and after discussions she will be given an important responsibility in the party," Singh said.
After joining the party, Poonam said, "I see a future, especially for the youth, in AAP. The reason why I quit BJP is because we were mistreated by Arun Jaitley. He did not give us poll tickets despite promising many times.
"Also, my husband, Kirti Azad, was suspended when he raised his voice against corruption. BJP is maintaining a dual stand," she alleged, adding she does not support the demonetisation of Rs 500 and Rs 1,000 notes as common people are suffering because of it.
Poonam, who had contested against former Delhi chief minister Sheila Dikshit in the 2003 assembly polls, has faced growing marginalisation in the BJP over the last few years.
IMAGE: Delhi Deputy Chief Minister Manish Sisodia welcomes Poonam Azad, wife of suspended BJP leader Kirti Azad, to the Aam Aadmi Party in New Delhi on Sunday. Photograph: @AamAadmiParty/Twitter