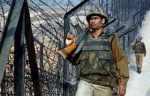 At least 10,000 mujahideen are waiting to cross over into India and wage war and spread terror. Vicky Nanjappa reports
The killing of two Indian soldiers at the Line of Control in Kashmir by the Pakistan army has raised concerns of infiltration by extremists. The military intelligence has directed the stepping up of a vigil along the border areas as they suspect that this unprovoked incident was yet another attempt by the Pakistan establishment to push in extremists into India.
"It is an infiltration attempt by the Pakistan army," said Rajesh Kalia, the spokesperson for the Indian Army. "It is an attempt supported by the Pakistan army."
Tuesday's incident brings back memories of 1999 when Islamists from Pakistan occupied Kargil after a surprise operation. This episode is an indicator that there is a desperate attempt to push infiltrators into India from across the border. There has been an escalation of violence in the border areas over the past couple of weeks.
According to the Intelligence Bureau, such incidents cause a distraction. As India focuses on combating Pakistan forces, extremists try to infiltrate.
While most Pakistani infiltrators enter Kashmir and fight along with the Lashkar-e-Tayiba there are a good number who manage to spread to other parts of the country, officials added.
India has been facing an issue of infiltration for several years now. Recently, it was found that a 400-metre long tunnel along the India-Pakistan border in the Samba district was being used for infiltration.
There were oxygen pipes found in the tunnel and work on the same had been going on for quite sometime.
The idea of digging a tunnel to infiltrate into India had been devised after vigil was stepped up along the fenced borders.
Post Kargil, Pakistan has taken an extremely aggressive stance on infiltration. Army officials point out that the strategy has remained unchanged for a long time.
Pakistan does not want to enter a war with India, as there are many factors, which would work against them. The nuclear capabilities of the two countries are also a worry and hence Pakistan prefers to causes distractions so that their Islamist extremists wage a continued battle in India, say IB sources.
A few years after Kargil, each terrorist who infiltrated India was paid Rs 17,000 per month, but now the sum has increased twofold. They get anywhere between Rs 30,000 to Rs 40,000.   
On one hand outfits such as the Lashkar-e-Tayiba are recruiting Kashmiri locals after convincing them to fight for their 'cause', while on the other trained mujahideen are entering India. Apart from battling the Indian forces in Kashmir, they also setting up modules in the Valley and other parts of the country. 
According to military intelligence reports, at any given time there are at least 10,000 mujahideen who are waiting to cross over into India. This means they are battle ready. However, after every attack on India forces at least 50 to 100 such fighters cross over, officials point out.
IB officials however say that the concern is not the Valley alone. Vigil has also has to be stepped up on the Bangladesh border as well the borders along the northeastern states.