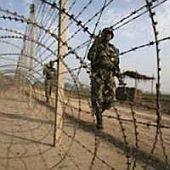 Pakistan's High Commissioner Salman Bashir met Foreign Secretary Ranjan Mathai in New Delhi on Wednesday during which the latter lodged a protest against Tuesday's attack in which Pakistani troops crossed over the Line of Control in Jammu and Kashmir's Poonch District and killed two soldiers.
Bashir was summoned by the Ministry of External Affairs in the wake of the Pakistan Army's inhuman and provocative killing of two Indian Army soldiers in the Mendhar Sector of Jammu and Kashmir on Tuesday.

Foreign Secretary Ranjan Mathai made it clear that these incidents were "unacceptable" and that Pakistan has to uphold the sanctity of the Line of Control, according to official sources.
During the 30-minute meeting, Bashir was told by Mathai that regular Pakistani soldiers had crossed the LoC at Mendhar sector and engaged with Indian troops who were patrolling this sector.
"Two Indian soldiers were killed in the attack and their bodies subjected to barbaric and inhuman mutilation. The government of Pakistan was asked to immediately investigate these actions that are in contravention of international conduct and ensure that these will not recur," Bashir was reportedly told.

According to certain media reports, India may now review its ties with Pakistan.
According to reports, Defence Minister A K Antony and National Security Advisor Shiv Shiv Shankar Menon on Wednesday briefed Prime Minister Manmohan Singh on the untoward incident that took place along the LoC.
The MEA is likely to issue a de-marche questioning Pakistan's shocking, counter-productive, distressing and aggressive action on Indian Army soldiers.
External Affairs Minister Salman Khurshid has said that the Indian Government will take up the incident in a firm manner with the Pakistan Government.
The brutal killing of two Indian soldiers by the Pakistani Army has evoked outrage across the board, with India warning that its response "may have to go beyond the procedures".
Defence Minister AK Antony on Wednesday condemned the killing of two soldiers by the Indian army as 'highly provocative' and said that the way one of the Indian soldier's bodies had been treated was 'inhuman'.
The two dead Indian soldiers have been identified as Lance Naik Hemraj and Lance Naik Sudhakar Singh.