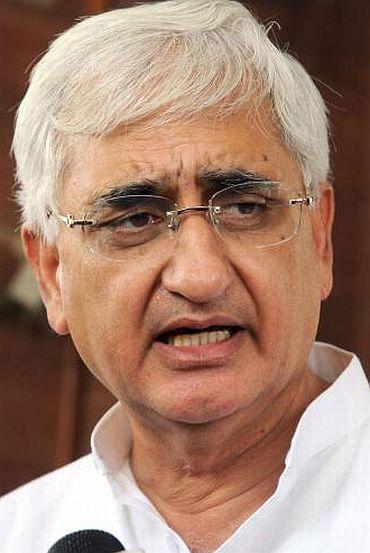 Amid protests by Arvind Kejriwal, Law Minister Salman Khurshid on Sunday returned to the capital from abroad and said he will fight back the allegations that his Non-Governmental Organisation siphoned off money meant for disabled with sufficient proof.
The law minister faced protests at IGI airport in New Delhi on Sunday morning where activists of Kejriwal-led India Against Corruption raised slogans against him and attempted to show black flags.
Khurshid, who was in London for the past few days, denied the allegations levelled by a TV channel and Kejriwal's IAC that the Zakir Hussain Memorial Trust owned by him and his wife Louise was involved in cases of financial misappropriation and forgery.
"I will fight back the allegations with sufficient proof," he told reporters on arrival.
The protest by Kejriwal and disabled people demanding the resignation of Khurshid entered the third today. The protesters, who were detained two days ago and released yesterday, continued their protest at Parliament Street and raised the pitch saying they will sit there till Khurshid resigns from the Cabinet.
Khurshid's wife Louise, the project director of the NGO Dr Zakir Hussain Memorial Trust, had lashed out at Kejriwal on Saturday, terming the allegations of 'money bungling' as 'baseless innuendos' and accused him of 'doing politics using the shoulders of the disabled'.