Delhi Police on Thursday got removed certain "anti-national" and "Khalistan-related graffiti" painted on a wall in the Paschim Vihar area of the city, officials said.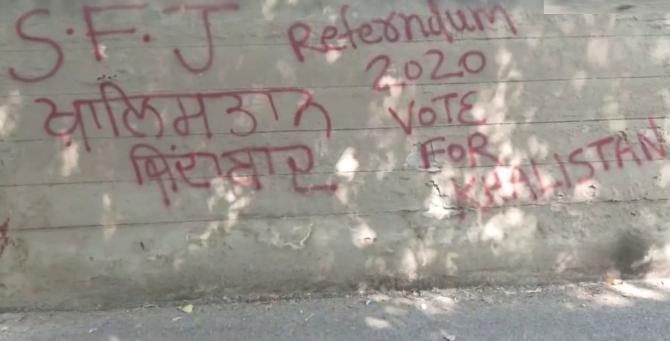 The wall was painted with slogans like "Khalistan Zindabad" and "Referendum 2020", they said.
When asked, Delhi Police PRO Suman Nalwa said, "Some people had painted anti-national, Khalistan-related graffiti at some locations in Delhi. This is not a security-related issue. Legal action will be taken in this matter."
Delhi Police is ensuring that no wrong activities take place ahead of Republic Day, she said.
"This doesn't affect our security. Since SFJ (Sikhs for Justice) is a banned organisation, it is trying to make itself known and wants to be in the news," she added.
Fringe organisation Sikhs for Justice (SFJ), run by a few radical Sikhs of foreign nationality in the US, Canada, the UK, etc, was declared unlawful by the Union government under the provisions of Section 3(1) of the Unlawful Activities (Prevention) Act, 1967.
The Centre, by its July 10, 2019 notification, had declared the SFJ an unlawful association and had banned it for five years, saying the group's primary objective was to establish an "independent and sovereign country" in Punjab and it openly espouses the cause of Khalistan and in that process, challenges the sovereignty and territorial integrity of India.