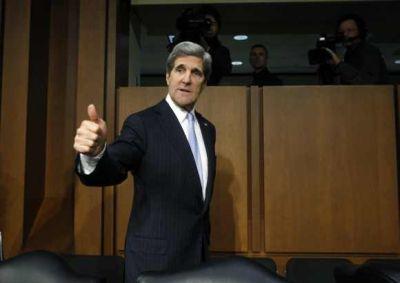 United States Secretary of State John Kerry on Monday flew back home from Geneva with his orthopaedic surgeon on board, after breaking his right leg in a cycling accident in the French Alps.
"A US military C-17 transport aircraft is taking him and his orthopaedic surgeon, Dr Dennis Burke back to Boston," said a statement released by the US Mission in Geneva.
"The aircraft, based in Ramstein, Germany, will be staffed by additional military medical personnel in keeping with standard practice," said an earlier statement by the mission.
The top US diplomat, a keen cyclist who is known to carry his bike on some of his international trips, broke his right femur on Sunday morning in the picturesque village of Scionzier near Chamonix, 40 km from Geneva, after falling off his bike in the mountainous Rhone-Alpes area in southeastern France.
Paramedics and a physician were on the scene with Kerry's motorcade at the time of the accident. He was transported by a medical helicopter to the Hospital University in Geneva after the accident.
"Given the injury is near the site of his prior hip surgery, he will return to Boston today to seek treatment at Massachusetts General Hospital with his doctor who did the prior surgery," said US State Department spokesperson John Kirby in a press statement.
Kerry was in Geneva to meet his Iranian counterpart, Javad Zarif, to discuss details of a nuclear deal ahead of the June 30 deadline.
He had to cancel his onward travel to Madrid and Paris to attend the counter-ISIS coalition ministerial meeting to be held on Tuesday.
The White House insisted that the secretary was not out of action and would continue to work.
"I would love to see anyone at the hospital try to stop @JohnKerry from negotiating and working while recovering from breaking his leg," tweeted Jennifer Psaki, the White House Director of Communications.