A soldier, who claimed that he was assaulted by six people near his home in this district and 'PFI' was written on his back, was on Tuesday arrested along with his friend for allegedly giving a false statement about the incident.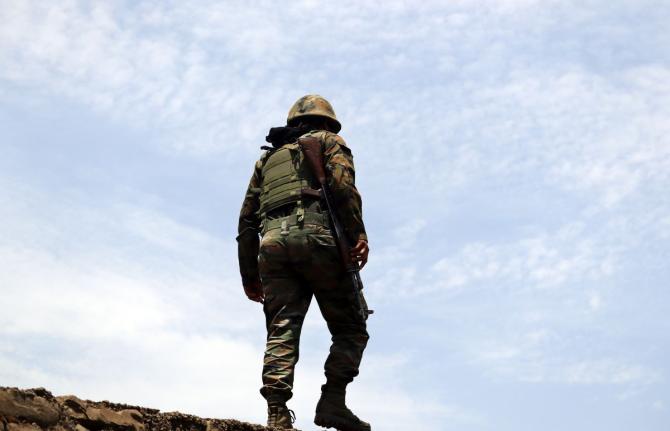 A senior police officer of the district said the arrest of the two was formally recorded based on the statements given by the soldier -- Shine Kumar -- and his friend.
The provisions in the FIR lodged earlier on the soldier's complaint have been altered, the officer also said, but did not give details.
The soldier's friend has claimed that Kumar wanted to become famous and that is why this entire act was carried out.
The police also recovered from the friend's home the green paint, brush and tape allegedly used in the incident.
The soldier's friend told the media that Kumar planned the whole thing to become famous.
Giving details of what allegedly transpired, the friend claimed that Kumar asked him to write 'PFI' on his back and to beat him up.
"I was drunk, so I initially wrote DFI, but he (Kumar) said to write PFI. So, I made it PFI. Then he asked me to beat him up, but I said I couldn't because I was drunk.
"Then he asked me to drag him on the ground and lay down, but I could not in my intoxicated state. So, he asked me to tape his mouth and hands and then to leave. So, I did that," the friend claimed.
The soldier in his complaint had claimed that he was allegedly beaten up near his home on Sunday night by six persons and 'PFI' was written on his back with green paint.
The alleged incident occurred near his home at Kadakkal in Kollam.
The soldier, who hails from Kerala and is posted in the Indian Army's Electronics and Mechanical Engineers (EME) Corps, had claimed that he saw some persons standing near his home while he was returning on his bike.
On asking them why they were there, they said somebody was lying drunk in the nearby rubber plantation and asked the soldier whether he knew that person, he had said.
He had also claimed in his complaint that he accompanied the men to the rubber plantation and on reaching there, someone kicked him from behind and then the assailants tied his hands and beat him up. They then wrote PFI on his back with green pain.
The alleged incident occurred on the last day of the soldier's vacation, the police said, and added that he was set to return to his unit at Jaisalmer in Rajasthan on Monday.
There were no injuries on the soldier, they said.
PFI generally refers to the Popular Front of India, an organisation that was banned by the central government last year.