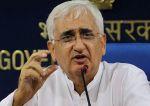 Arvind Kejriwal along with disabled people on Friday marched towards the prime minister's residence demanding dismissal of Law Minister Salman Khurshid and his arrest following allegations by India Against Corruption of financial irregularities in a trust run by him.
The activist had sought time from the prime minister but his office refused to give him and the disabled people an appointment, Kejriwal said.
The march was organised by Rashtriya Vikalng Party and supported by Kejriwal-led India Against Corruption.
The march started from Janpath but was prevented by police after 100 metres at Rajpath crossing.
"Khurshid has insulted the office of Law Minister. B R Ambedkar was once in this seat. A case should be registered against Khurshid and his wife. Till he is declared innocent, he should be out of the Cabinet," he said.
"Both Khurshid and his wife are very powerful people. They will be able to cleanse the evidence. They can put pressure on witnesses. They should be arrested to prevent this," Kejriwal said.
Kejriwal said, "Now let's make this place another Tahrir Square (centre of anti-regime protests in Egypt). Now people should take leave and join the protest. Now it's a fight to
the finish. Prime minister will have to meet us and accept our demands. Khurshid has to resign. He should be arrested," he said.
The IAC activists are now sitting on a protest near the National Archives on Janpath.
An IAC spokesperson said they would continue their dharna till the time the PM meets them or Khurshid resigns.
Rashtriya Vikalang Party president K K Dikshit demanded that Prime Minister Manmohan Singh dismiss Khurshid from the Cabinet and register a case against him.
Acting on the request of the law minister's wife Louise Khurshid, Uttar Pradesh government has begun the process of verifying the handicapped welfare examination report of Zakir Hussain Trust run by the couple for 2009-2010.
In a communication to Louise Khurshid on October 3, Chief Minister Akhilesh Yadav told her that he has forwarded her letter in this regard to the chief secretary of the state's Handicapped Welfare Department and she will be apprised of the action taken there of.
KhurshId's wife on Thursday came out with a strong denial saying the allegation is "devoid of any merit, and is false, malicious and baseless".
In a statement, she said she herself had requested the UP chief minister on September 17 to conduct an inquiry so that "truth is revealed and it is established that the Trust has not forged the signatures of any officers of the state of UP".
Law Minister Salman Khurshid on Friday lashed out at Arvind Kejriwal describing him as a man possessed with "burning ambition" who "should know that the free ride is over". Responding to allegations levelled by Kejriwal about "money bungling" by a trust run by him and his wife Louise, Khurshid said that he would be "happy to engage in direct battle" both in court and in the public domain on the issue.
"Kejriwal is a man possessed not with any noble idea but burning ambition for which he will destroy whatever is in his path. But he should know that the free ride is over. The courts will now decide what is the truth," Khurshid told PTI in an email response. The Union minister said that the spontaneity with which Kejriwal reacted suggests that he "did not even read the papers" unless of course there was prior contact between him and 'Aaj Tak', which aired the purported sting operation.
"I hate to imagine the fate of unsuspecting citizens whose tax matters would have come before Kejriwal in the few years that he condescended to serve as an IRS officer, " Khurshid said. He also reacted strongly to a tweet by activist and former IPS officer Kiran Bedi on the issue, saying her response makes him wonder if people were ever safe in the hands of such police personnel. In her two posts on the microblogging site Twitter, Bedi said there was "substantial evidence for arrest and charge sheet" in the alleged bungling.
Reacting sharply to it, Khurshid said, "The response of Kiran Bedi makes me wonder if we were ever safe in the hands of such police personnel. But of course the answer to that is readily available from many who served as her contemporaries. Pity that such people are ruining the case for a sensible and effective Lok Pal."