A court in New Delhi on Wednesday granted the National Investigation Agency (NIA) 10 days' custody of two people accused in a case related to NGO terror funding.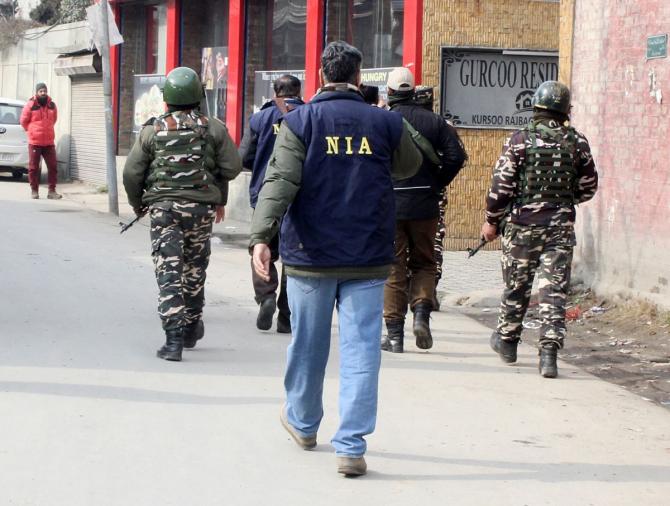 Principal District and Sessions Judge Dharmesh Sharma allowed 10 days of custodial interrogation of human rights activist Khurram Parvez and his 'close associate' Irfan Mehraj on two separate applications by the federal agency for 12 days' custody of each of them.
"I have heard the counsel for the accused persons and having regard to the facts disclosed in the two applications and to unearth the incriminating material and other links concerning their unlawful activities besides the aspect of confrontation with digital evidence, the applications are allowed and both the accused persons are remanded to police custody of the NIA for a period of 10 days," the judge said.
He also said that the accused persons should be medically examined on each day of remand and produced before the court on April 1.
The NIA on Wednesday formally arrested jailed Jammu and Kashmir Coalition of Civil Society (JKCCS) programme coordinator Khurram Parvez in connection with the NGO terror funding case.
It nabbed Srinagar resident Irfan Mehraj on Monday, its first arrest in the case registered in October 2020.
Mehraj was a close associate of Parvez and was working with his organisation, the NIA added.
After his arrest on Monday, the agency brought Mehraj to the national capital on a transit remand.
It alleged that investigations have revealed the JKCCS was funding terror activities and propagating a secessionist agenda in the Valley under the garb of protection of human rights.
The NIA is probing the involvement of some Kashmir-based NGOs, Trusts and societies in the funding of terror-related activities.
It said some NGOs, both registered as well as unregistered, have been collecting funds domestically and abroad under the cover of doing charity and various welfare activities, including public health and education.
'But some of these organisations have developed links with proscribed terrorist outfits such as the Lashkar-e-Taiba (LeT) and Hizbul Mujahideen (HM),' the NIA said.
Parvez is in prison since his arrest by the NIA in November 2021 for anti-national activities, including collecting information on vital installations and deployment and movement of security forces, procuring secret official documents and passing the same to his LeT handlers through encrypted communication channels for monetary consideration.
He was chargesheeted along with six others on May 13 last year.