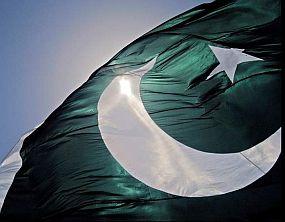 Kashmir occupies much of Pakistan's foreign policy space and remains an obsession with its security establishment and non-state actors but the issue hardly finds any mention in the campaign for next month's national assembly elections that may again return a hung verdict.
Nor does India figure in the muted campaign of political parties whose candidates are mainly grappling with militant threats as the country goes to polls on May 11 to elect 272 members in a house of 342.
The remaining seats will be filled up in accordance with various quotas. In the national elections, over eight crore people are eligible to vote. Polls are also being held to choose provincial assemblies.
Lack of any national issues mark the electoral scene in a country that is trying to make the first democratic transition in its history. No elected government in Pakistan had so far completed its term like the PPP-led government did.
After last elections, the PPP, headed by Bilawal Bhutto Zardari, the 24-year-old son of President Asif Ali Zardari and late Benazir Bhutto, and PML-N headed by former Prime Minister Nawaz Sharif came together to form a coalition government because no one got majority. Later, the two split but the government survived with the help of other parties.
Surprisingly, India and the emotive Kashmir dispute have not figured in the campaign of any of the parties though they are mentioned in their manifestos.
The PML-N's manifesto talks of making Pakistan a bridge between energy-rich Central Asia and Iran and energy-deficit countries like China and India.
It also speaks of linking India with Afghanistan and Central Asia and providing a land route from Iran to India.
The PML-N further says it will make special efforts to resolve the Kashmir issue in line with UN resolutions and the 1999 Lahore Accord.
The PPP, which sustained dialogue with India and normalised bilateral trade relations while in power, states in its manifesto that it will work to resolve all outstanding issues with India, including the "core issue" of Kashmir.

"We will not allow lack of progress on one agenda to impede progress on the others," the manifesto says.
Imran Khan's party, widely perceived as being close to the powerful security establishment, says in its manifesto the resolution of the Kashmir dispute is one of Pakistan's "core national interests".
It states that "progressive detente with India will benefit both countries if centred on conflict resolution".

The party also talks of a "bilateral strategic dialogue with India encompassing all aspects of strategic nuclear deterrence".

Imran Khan, who was not long ago touted as the most popular leader and was speculated as the next Prime Minister, of course, with establishment's backing, does not appear to be to leading in the race. Analysts feel that his party's weakness in crucial provinces of Punjab and Sindh could hamper his performance.
Senior PPP leader Latif Khosa explained the lack of focus on India in the campaign by saying that candidates were highlighting what they had done for the electorate.
"In the local scheme of things, our candidates only talk about what they have done for their voters and what they will do in future. India or Kashmir does not fit in. However, if you have seen our advertisements, you find the Kashmir issue in them," Khosa told PTI.
Khosa said President Zardari had recently raised the Kashmir issue.
"We are very much concerned about it," he added.

PML-N spokesman Pervaiz Rashid said his party's television advertisements too feature Nawaz Sharif's "daring step of nuclear tests and our soldiers on Siachen".
"We are reminding the people that it is the PML-N leadership that will resolve the Kashmir through dialogue with India. We want peaceful relations with India as we have said several times," he said.

Columnist and TV talk show host Farrukh Pitafi, however, said foreign policy issues had taken a backseat in the ongoing campaign.
"Even the most reactionary parties are focussing more on domestic issues like corruption, good governance and the energy crisis.
"The PML-N leadership brought up the peace process with India to remind us of its legacy but we have witnessed no playing up of Kashmir or similar issues," he told PTI.
Meanwhile, top leaders of key parties like the PML-N, Muttahida Qaumi Movement and Pakistan Tehrik-e-Insaf have addressed only a handful of large rallies while others like the Pakistan Peoples Party and Awami National Party have largely been absent from the campaign trail.
Campaigning by the PPP, MQM and ANP, which were part of the last government, was hit after the banned Pakistani Taliban threatened to target their rallies and leaders.
Nearly 20 people have died in a suicide attack and bombings targeting the secular ANP in the country's northeast.

The Taliban also gunned down a MQM candidate in southern Sindh province.
Other parties like the PML-N and PML-Q have struggled to find issues that can resonate with voters.


In several recent rallies, PML-N chief Nawaz Sharif, who is being widely tipped as Pakistan's next premier, has largely focussed on his achievements in the 1990s and the poor governance of the outgoing PPP-led coalition.

The Pakistan Tehrik-e-Insaf has been able to make vital inroads among the youth and in urban centres, largely due to its charismatic 60-year-old chief Imran Khan's promises to wipe out corruption and usher in a new foreign policy that will pull Pakistan out of the US-led war on terror.
Campaigning has been especially low-key and lacklustre in Punjab, the country's most populous province that holds the key to power in the National Assembly or lower house of parliament.

A visit to several cities of Punjab by PTI correspondent showed that electioneering is yet to take off.

Candidates and voters blamed anomalies in the Election Commission's scrutiny system, among other issues.

"How can we run a campaign when even till yesterday my papers were being challenged in an election tribunal," Amir Dogar, a PPP candidate in Multan, 350 km from Lahore, told PTI.

"One day the Returning Officer accepts the papers of a candidate, then the election tribunal rejects them and finally the court accepts them.
"In such a scenario, how can a candidate risk spending millions when he knows he may be disqualified without entering the race?" he asked.
Dogar's cautious approach was reflected in key districts like Khanewal, Cheechawatni, Sahiwal and Okara, with no visible signs of campaigning like portraits or banners of any candidates.

However, there is a general impression among voters that candidates will go in for hectic campaign during the last two weeks before the polls.

The PPP, which ruled Pakistan during 2008-2013, is banking on programmes that it initiated while in power, like the Benazir Income Support Programme which distributed Rs 1000 a month among tens of thousands of families.

The PML-N is highlighting projects like the Metro Bus Service in Lahore while Imran Khan's campaign centres round the message of building a "New Pakistan".
With President Asif Ali Zardari, the chief of the PPP, barred from campaigning by the judiciary, the party is looking to his son, 24-year-old Bilawal Bhutto Zardari, to woo the voters. However, Bilawal addressed only one small gathering of PPP workers in Sindh and can be seen only television spots and newspaper advertisements that feature his slain mother Benazir Bhutto and late grandfather Zulfiqar Ali Bhutto.