Over 100 people dead in Jammu and Kashmir as it witnesses worst floods in 50 years. Mukhtar Ahmad reports from Srinagar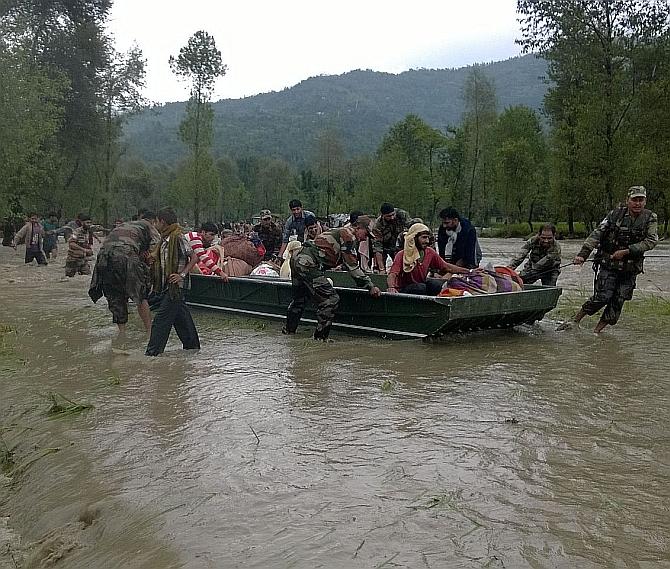 Army personnel rescue villagers stranded in floods. Photograph: Indian Army
At least 28 people lost their lives on Saturday as the death toll in the worst flood to hit Jammu and Kashmir in the last 50 years mounted to 116, while army rescued 11,000 people to safety.
Union Home Minister Rajnath Singh assured of all help to the state government during his visit. Singh arrived in Srinagar on Saturday morning on an one-day visit to get appraisal of the situation that has arisen due to incessant rains resulting into devastating floods in Kashmir Valley and some districts of Jammu region. He assured all help from the Centre to the state government to overcome the difficulties and help relief and rehabilitation of the affected population.
"Wherever you need central assistance we will be providing it to you", he said adding that a comprehensive memorandum of losses be forwarded to the Government of India as soon as possible, an official statement said.
Worried Kashmiris cry as they wait for relief workers to rescue them. Photograph: Umar Ganie/Rediff.com
Chief Minister Omar Abdullah gave an overview of the situation and the measures taken by the state administration to safeguard the lives and evacuate people from submerged areas. He said that presently the top most concern of the state government is to ensure safety of human lives and evacuate the population trapped in submerged areas. He said huge paddy and fruit crop has been destroyed by the floods and unabated heavy rains.
Army, eight teams of the National Disaster Response Force, police and civil administration are working in tandem to help in the rescue and evacuation of the marooned population.
Though the Jammu and Kashmir government has mounted a massive relief operation, it is yet falling short of the challenge. People in many areas of the capital city and south Kashmir areas are complaining of inadequate or delayed responses from authorities.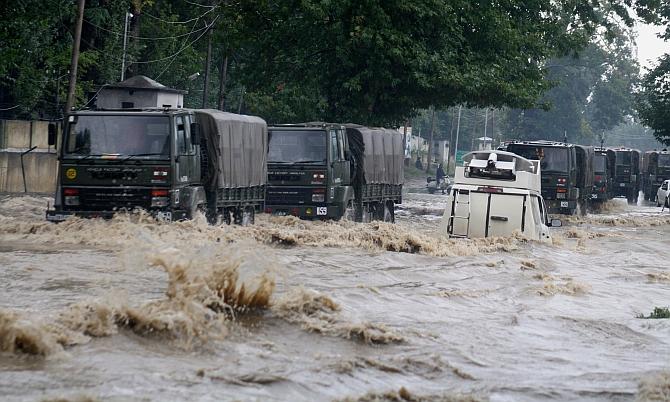 Army vehicles wade through water to reach affected areas. Photograph: Umar Ganie/Rediff.com
State relief and rehabilitation commissioner Vinod Koul said that the floods had so far claimed 107 lives, submerged 390 villages fully and 1,225 partially in the Kashmir region and 1,000 villages in Jammu region.
Koul said, "50 bridges and hundreds of kilometers of roads besides power installations and water supply schemes have been damaged. The assessment of damages can be fully ascertained after the flood water recedes and a survey is conducted." He said that there was an urgent demand for 25,000 tents and 40,000 blankets and underlined the need of its procurement at the Centre level and early dispatch to the state.
Later, the chief minister drove the home minister to the inundated areas in upper Srinagar to take stock of the devastation. Addressing a news conference in Jammu, Rajnath Singh described the situation in many areas as critical and assured the state government of all help from the Centre. He said that Prime Minister Narendra Modi while expressing sympathies with affected people had assured all help from the Union government to Jammu and Kashmir in this hour of crisis.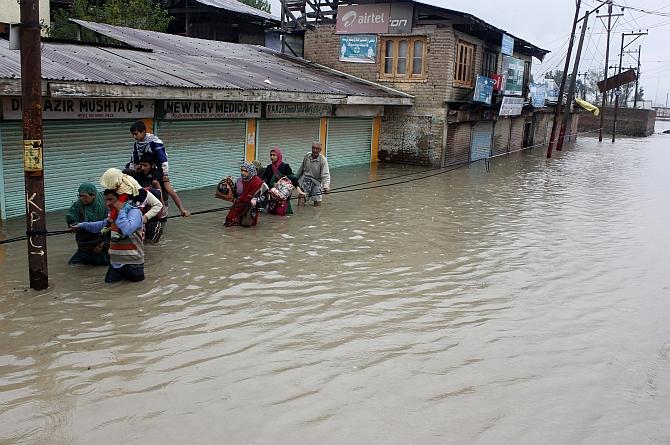 Residents abandon their houses and flee to safer places. Photograph: Umar Ganie/Rediff.com
"Due to bad weather I could not conduct the aerial survey in Srinagar," Singh said adding that six helicopters had been sent to the state for assisting the administration in its efforts to rescue and evacuate people stranded in various submerged areas. "Precautionary measures should be taken to prevent the spread of water borne diseases and health advisories should be issued."
The PM has announced Rs 2 lakh as ex-gratia relief to the next of kin of those who died and Rs 50,000 to those who have received injuries in the flash floods.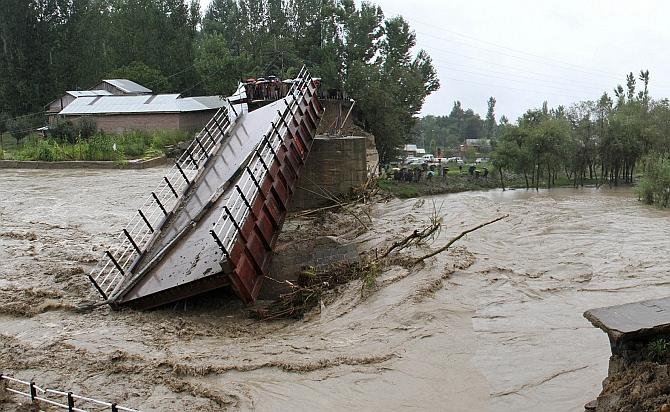 A bridge damaged due to the floods in Srinagar. Photograph: Umar Ganie/Rediff.com
The army is also helping the state administration in rescue and relief operation.

A defence spokesman in a statement said that the army has intensified 'Mission Sahayata' employing more than 60 army columns and 13 engineer teams to rescue precious lives trapped in flooded villages, isolated houses and multi-storied buildings in the inundated areas all over Kashmir.

So far, the army has evacuated 11,000 people from flood-hit areas and shifted them to safer places.
Soliders on a rescue mission in a flooded area in Srinagar.

"On September 6, a column of the army operating at Kakapora of Pulwama district itself came under floods. While moving on a boat to place of safety, the boat carrying 11 personnel capsised," a defence statement said.

"A helicopter-based rescue mission was launched to rescue the stranded personnel, however, bad weather prevented execution of the mission and finally boats were used to reach. Two soldiers were still stranded in the area."

The Indian Air Force and army aviation choppers have airlifted 108 Border Security Force and army men from forward Border outposts as floods have badly hit security infrastructure along Indo-Pak border.
"A total of 108 BSF and Army jawans were evacuated from various marooned BoPs and forward posts along Indo-Pak border in Jammu sector today," a senior army official said.
Floods have inundated most the stretches of border fencing and trapped BSF jawans in BoPs and also army jawans in forward posts along Indo-Pak border in Jammu and Samba sectors.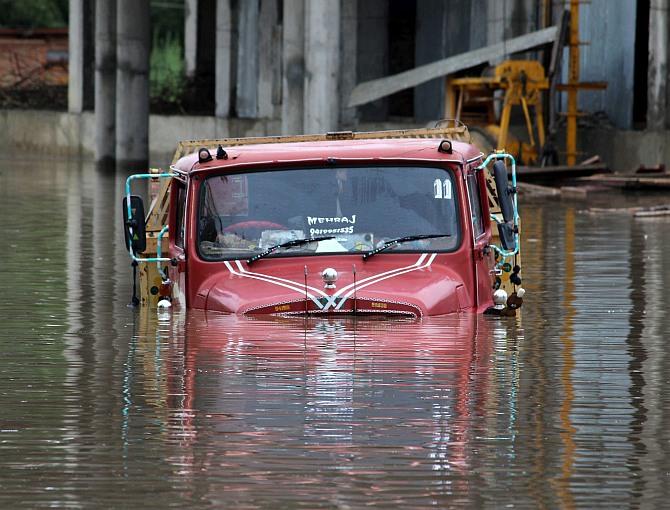 A truck stuck under flood water following heavy rains at Bypass in Srinagar.