Twenty eight more people were killed on Friday in the worst floods in Jammu and Kashmir in nearly six decades and army joined the relief operations as situation turned grim in the state where the deluge has wreaked havoc, damaging roads, dozens of bridges and buildings and crops.
Incessant rains since Wednesday have worsened the flood situation, leaving 48 people dead till now and disrupting normal life. Schools and colleges across the state have been closed till Monday while universities in Kashmir have suspended all work for two days.
Almost all 10 districts in Jammu region are affected. River Jhelum and many other streams were swollen and had inundated most areas in five districts of Kashmir leaving 10 people dead. Three more districts out of 10 in the Valley have also been affected by the flood fury.
Jhelum in Srinagar is flowing at 22.40 feet, 4.40 feet above danger mark, as many areas in the summer capital of the state have been submerged.
Leading from the front, Chief Minister Omar Abdullah toured flood-hit areas of Srinagar during the night overseeing the rescue operations and visited several affected areas in south Kashmir. He supervised the evacuation of patients from Bone and Joint Hospital at Barzulla late on Thursday night.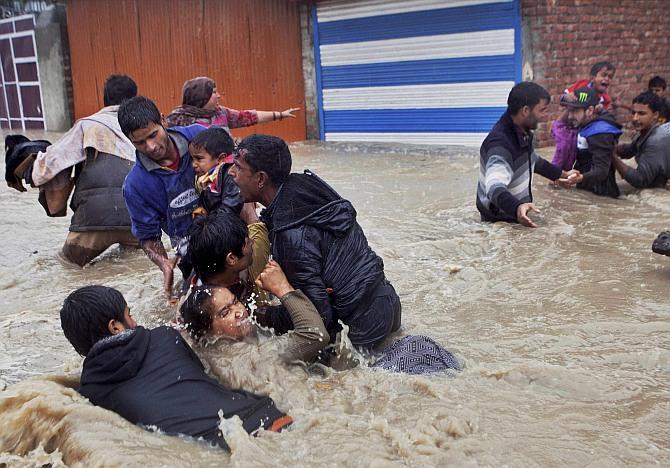 Image: Kashmiri residents struggle to withstand sudden and strong water currents while wading through floodwaters in their efforts to move to safer places in Srinagar. Photograph: PTI Photo
Nineteen deaths were reported on Friday from the Jammu region apart from the recovery of five bodies from Thursday's bus mishap in which 50 members of a marriage party were washed away in Rajouri district, officials said.
Ten people were killed when a house was buried in a landslide in Thanamandi belt of Rajouri district, a police officer said adding that some more people are missing and operation is on to rescue them. Two more died in Sunderbani and Darhal belts of Rajouri districts. In Jammu district, bodies of two persons, who were washed away, were recovered from canal here. In Reasi, four persons were killed and one died in Udhampur district.
Four people were washed away in Kashmir, taking the toll to 10 in the Valley on Friday. Three persons were washed in Sukhnaq Nalla in central Kashmir's Budgam district while another youth drowned in Vishnu Nalla in south Kashmir Kulgam district.
With Friday's deaths, a total of 48 people have died in the state hit by floods and landslides.
The J&K government has ordered red alert as all the rivers in the Jammu region are flowing above the danger mark. Officials said as many as 60 major and minor roads have been cut off and 30 bridges washed away in the Valley, hampering the relief and rescue operations.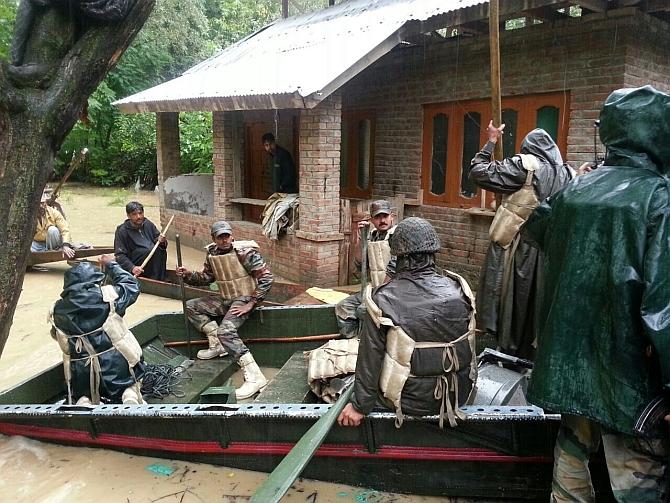 Image: Army personnel rescue people stranded in floods. Photograph: Indian Army

A senior official said this is the worst flood recorded in recent history of the state.
The army has deployed 85 columns (75 to 100 personnel) of troops for search, rescue and relief operations in Jammu and Kashmir in a major way and over 2,500 people have been rescued so far. It has also despatched two AN-32 aircraft with relief material from its Bhatinda camp in Punjab.
Union Home Minister Rajnath Singh will undertake a tour of flood-hit areas of Jammu and Kashmir tomorrow along with Minister of State (Independent Charge) Jitendra Singh. He spoke to the CM on telephone and has assured him of all possible help from the Centre.
Teams of the National Disaster Response Force have already reached the state and more were being sent from Punjab.
"The army has been asked to assist in the relief and rescue operations in submerged areas of south Kashmir and Srinagar city while four companies of the NDRF have already arrived and have been dispatched to the affected areas," Divisional Commissioner, Kashmir, Rohit Kansal told PTI.
As many as 1100 people were rescued from flash-floods in various areas by teams of the army and the Indian Air Force teams.
In Jammu, over 30 villages have been hit in Pargwal and Munawat Tawi ares in Jammu and over 3000 people have been evacuated by security forces and shifted to safer places, they said.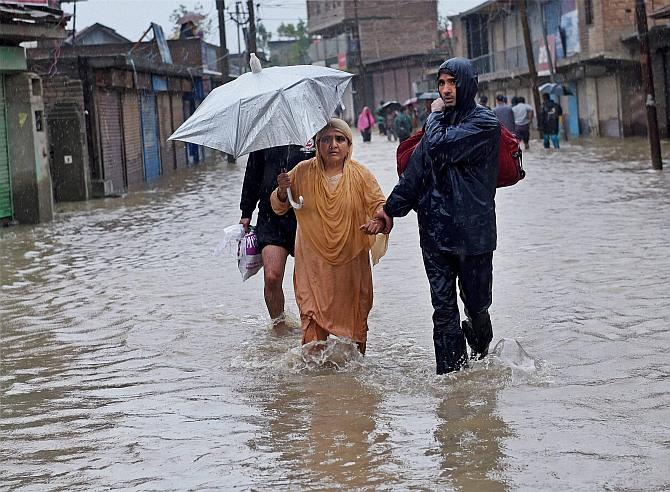 Image: People wade through a street flooded due to incessant rains at Hamdania Colony. Photograph: PTI Photo
Jammu-Srinagar national highway remained closed for the second day along with several inter-districts road in Doda, Ramban, Rajouri and Poonch district. "The level of water in River Jhelum at upstream Sangam in Anantnag district is well above the measurable mark of 34 feet... the measuring metre has disappeared, which has resulted in flooding of Anantnag and surrounding areas," an official said.
He said there was no mention in official records about this happening before. "We have seen the level of Jhelum rise to 26 or 27 feet in the past but never beyond that," he added.
Eighty-five-year-old Haji Abdul Gani Dar from Srinagar said he had seen such a flood in 1957 when almost the entire Kashmir Valley was submerged.
Most parts of south Kashmir including Pulwama, Anantnag and Kulgam district have been submerged.
Officials said the water level in Rambiara stream in Shopian district was also rising very fast, threatening to inundate the only south Kashmir district not affected by floods so far.
Doodhganga stream, which flows through southern part of the city, has breached the embankments at several places, flooding the residential areas. The threat of floods has increased in north Kashmir region after River Jhelum breached the danger mark of 14 feet at Asham in Bandipora district, they said.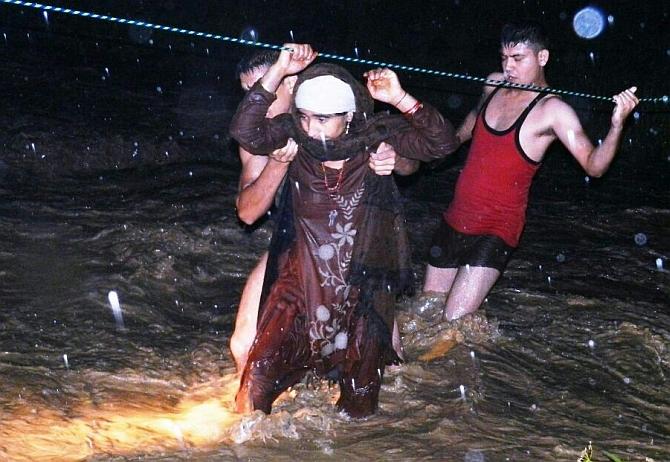 Army men rescue a woman in Srinagar. Photograph: Indian Army
The authorities have evacuated people from many areas in Bandipora in anticipation of flooding on Friday.
The Sindh nallah in Ganderbal district is also flowing above the danger mark while the water level in streams and rivulets in Budgam district is also rising fast.
There has been no respite from the rains which began on Tuesday as the heavy downpour continued through the night.
Standing crops like paddy and horticulture crops worth hundreds of crores of rupees have been damaged due to the floods. The exact quantum of loss will be known only after the flood situation eases.