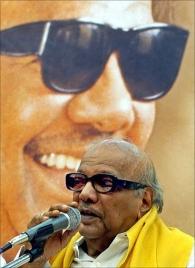 Dravida Munnetra Kazhagam chief M Karunanidhi on Wednesday lauded his arch political rival -- Tamil Nadu Chief Minister J Jayalalithaa -- for her decision to release the seven convicts in the Rajiv Gandhi assassination case.
"This is not a quick decision. When I made this opinion (seeking release) in 2011, she did not accept it. Today, I appreciate her for taking the same stance," Karunanidhi told reporters when asked about Jayalalithaa's decision.
The DMK chief also hoped that the Centre would concur with the state government's decision, saying if that happened, "we could be happier."
Marumalarchi Dravida Munnetra Kazhagam chief Vaiko said Jayalalithaa had taken a laudable step, adding it was a merciful humanitarian move.
"I greet, congratulate and thank her," he said.
Communist Party of India leader D Raja said the Tamil Nadu government acted quickly and the decision was very laudable.
Bharatiya Janata Party's state unit president Pon Radhakrishnan said, "Any move made in accordance with the due process of law" was welcome.
Pro-Tamil leader P Nedumaran expressed gratitude "on behalf of the world Tamils".
But some voices of dissent were heard as well.
While BJP leader Subramanian Swamy said the Cabinet's decision was illegal, Tamil Nadu Congress Committee President B S Gnanadesikan claimed that the move was an example of "competitive politics".
"Politics is happening over the Rajiv case in Tamil Nadu. After the opposition urged the release of three convicts, the government has come forward to release seven convicts," he said.