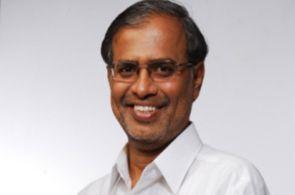 Karnataka Law Minister might just have the edge over KJP's Shobha Karandlage, who is on a revenge path, at Rajajinagar. Vicky Nanjappa reports.
Former Karnataka minister Shobha Karandlage is a woman on a mission. While watching her it is pretty evident that she, like her mentor B S Yeddyurappa, is on a revenge path against the ruling Bharatiya Janata Party.
Shobha, who has joined the newly-founded Karnataka Janatha Paksha, is contesting against Law Minister Suresh Kumar from the Rajajinagar constituency.
Shobha is a tough contender. Her constituency members say that she means business and voters are finding it difficult to choose between her and Suresh Kumar.
Although it is advantage Suresh Kumar, the campaign by the KJP leader has shaken the BJP. It would be extremely embarrassing for the BJP to lose this seat.
In fact the bigger worry for Suresh Kumar is the manner in which the KJP and the Congress have joined hands behind the scenes to defeat him.
Shobha spends a lot of time in her constituency. Nowadays she starts her campaign by 7 in the morning and ends it by 11 am. She then starts again at 4 pm and finishes by 11 pm. She does not believe in addressing rallies and prefers a door to door campaign instead.
"Your constituency has been neglected by respective governments, and I am here to rectify that," she tells the voters.
Shobha is relying heavily on two factors -- anti incumbency against Suresh Kumar and the heavy Vokkaliga vote bank. She is confident that at least one of these factors would work in her favour.
"There is a need for a very strong regional party in Karnataka", she says, and adds, "only the KJP can fill that gap".
There is a dire need to remove the cap on income for middle class families to seek benefits of various government schemes, she often says in her campaign trips.
"This is a constituency that is so close to the seat of power -- the Vidhan Soudha. There is a lot of work to be done over here and all governments have neglected this constituency".
Apart from Suresh Kumar she has to battle Anand S T of the Janata Dal-Secular and Manjula Naidu of the Congress. The Congress in fact has not really done much in Rajajinagar this time and would instead watch the battle between Shobha and Suresh Kumar unfold.
"I however believe that it would be a four way fight", Shobha points out.
Shobha says with a lot of confidence that the people of Rajajinagar will chose her. "Nearly 90 per cent of the workers who were with Suresh Kumar and the BJP are with me today and they will work for my victory and the defeat of the BJP," she notes.
Rajajinagar has over 2 lakh voters and the population is largely an educated one. There have been questions raised regarding the candidates in Rajajinagar and one such organisation which is trying to make a difference here is the Silent Majority group.
It is a set of "like-minded people" comprising of professionals and also housewives who have decided that they should form a team which would not vote. They have enrolled nearly 10,000 members into their organisation so far. Although they had initially decided to boycott the elections, this time they feel that they should get together and elect the right candidate after examining the credentials of the leader.
One cannot say Suresh Kumar is not entirely unfazed by the stiff competition that he is getting from the KJP. He was very clear at the start of his campaign that this is nothing but revenge being played out by Yeddyurappa against him.
Kumar is banking heavily on his clean image. His followers do not spare any effort to tell the voter that he has been a minister for so many years.
Both Shobha and Kumar have been ministers for almost the same number of years, but there is quite a comparison in their assets. Suresh Kumar is worth Rs 2.73 crore whereas Shobha is worth Rs 6.93 crore. Suresh Kumar's followers say that he still owns a poor man's car, the Indica, while Shobha has three SUVs -- a Tata Safari, a Fortuner and an Innova.
There is a smear campaign that is on and Suresh Kumar has never been happy about the manner in which Yeddyurappa ran the show. In fact Yeddyurappa feels that Suresh Kumar had played a major role in his ouster and hence this battle has been turned into a revenge.
Shobha, on the other hand, is defensive about Yeddyurappa and says that the likes of (chief minister) Jagadish Shettar are the ones who joined hands with the Reddy brothers and introduced corruption.
Suresh Kumar would go to the voter on his clean man image, and his supporters say that despite a tough contest their leader will have the last laugh.
Image: Karnataka Minister Suresh Kumar
Photograph Courtesy: Suresh Kumar's website