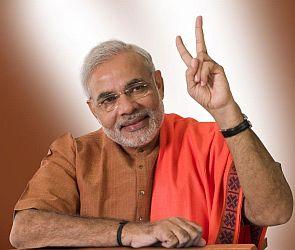 Vicky Nanjappa reports on how Narendra Modi has not just managed to draw the crowd in Karnataka but improved the BJP's chances in the state
Bharatiya Janata Party workers in Karnataka have a spring in their steps, thanks to the recent campaigning by Gujarat Chief Minister Narendra Modi in the state.

Former state chief minister D Sadananda Gowda is ecstatic that Modi came to Mangalore and raised the hopes of the party cadres.


"He is our star campaigner; he was our star campaigner in 2008 as well. Wherever he has addressed a rally, the BJP has done well," he says.

Gowda recalled how Modi helped him win the tough battle he faced in his home town, Puttur in 2008.

"Due to some dissidence, we had lost hope. But after Modi addressed a rally everything changed and the BJP walked through easily."
However, some party members say that things may have changed since 2008.

"Expecting too much out of Modi ji is unfair," a BJP leader told rediff.com, adding, "In fact, we are so glad that he came and addressed us in Mangalore and Bengaluru. It has done wonders for us. I see that zeal among the workers today."

The Congress had made an issue of Modi not wanting to campaign in Karnataka and accused him of being scared to enter into a losing field.
However in his speech on Thursday, Modi retorted that the Congress had challenged him to come to Karnataka.

"They had said the BJP does not have enough power to bring Modi here. But ultimately they have been proved wrong as I am here today," he said.
The BJP in Karnataka says that Modi has struck a chord with the masses. However, the question is whether it is too late in the day?

Political pundits say that the BJP has expecting too much from Modi.

They say that once cannot expect him to come, wave a magic wand and change everything.

He may not be able to ensure that the BJP forms the government, but he has surely raised their tally a great deal.


Modi will be seen more during the 2014 Lok Sabha election campaign in Karnataka. He does realise the importance of the state, which has 27 MPs. The BJP had managed to garner 22 seats in the last term, thanks to a joint effort by both Narendra Modi and B S Yeddyurappa.


Moreover, Karnataka is the only bet for the BJP. It is not a strong contender in the rest of southern India.

The case is quite similar for the Congress as well. It no longer can call Andhra Pradesh a sure shot bastion after the split with Jagan Mohan Reddy. In Tamil Nadu, the Congress relies on allies while in Kerala it is a mixed bag.

Hence Karnataka becomes important and the Congress would put in all its resources in 2014 to fight the Modi wave.


The other question being asked about Modi's rallies is whether people attended them only out of curiosity or will it translate into votes.

Looking at both the rallies closely it is evident that the crowd had accepted him as their leader and they would vote for his party.

In Bengaluru, in fact, he had to intervene and tell the crowd to allow local leader, Ananth Kumar to speak.

In Mangalore too he struck the right chord and managed to ensure that the crowd participated with him.

One can say that in the entire campaign for Karnataka 2013, Modi probably has had the best draw.


Rediff Sentimeter: Which way will Karnataka swing?
Complete Coverage: Battleground Karnataka