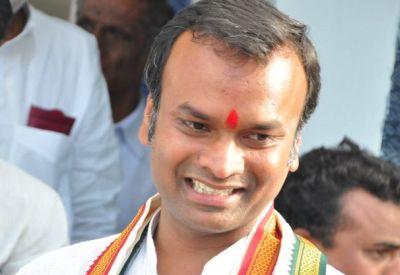 The stakes are at an all-time high for Congress leader Priyank Kharge, who is contesting from Chitapur in Kanataka's Gulbarga district. Vicky Nanjappa reports.
It was only after considerable amount of debate that Congress high command decided to give ticket to Priyank Kharge, son of Union minister Mallikarjuna Kharge, to contest from Chitapur seat in poll-bound Karnataka's Gulbarga district.
Understandably, there is a lot of expectation from Priyank with the pressure even higher as he lost the seat in the last assembly election.
His father, who made winning a habit from Chitapur, had to forfeit the seat as he became a member of Parliament. There was a by-election in which Priyank lost to Valmiki Nayak of the Bharatiya Janata Party by a narrow margin of 1,606 votes.
His father won this seat 10 times in a row and Priyank's defeat left the family shaken.
However, this time around Priyank appears to be confident and would largely rely on a 'Congress wave' in the state.
Moreover, his father, who is a well known face in the constituency, is going out of his way to ensure that his son is victorious.
It is a battle of prestige for Kharge senior. He ensured that his son was given a ticket despite there being so much opposition and the Congress saying that they did not want a dynasty rule.
Moreover, Kharge has initially been a chief ministerial aspirant, but this time the message to him was clear that he should not aspire for the post. As such, there's all the more pressure on Priyank to emerge victorious to carry forward the Kharge mantle.
Priyank is campaigning hard and says that he has learnt his lessons from the previous results.
"There was a massive effort that was made to defeat me the last time around. However, I have not lost hope. Despite not winning, I continued to work for the constituency and today the people have acknowledged that fact," he tells Rediff.com.
Priyank is however quick to add that he has not earned a ticket because of his father. "I have worked for the people in my constituency and I deserved a ticket. It is unfair to make such an allegation," he points out.
The BJP, on the other hand, has decided to make dynasty politics an issue. They are not deterred by the fact that the Congress won 15 out of the 23 seats in the local body elections at Chitapur recently.
"The people of Chitapur have been voting for one family for such a long time. We have achieved more in the past couple of years compared to what Kharge and his family had to offer Chitapur in the past four decades," BJP's candidate Valmiki Nayak says.
Image: Priyank Kharge on campaign trail
Photograph Courtesy: Priyank Kharge's Facebook page