Toiling hard to control the levers of power in Karnataka, the Bharatiya Janata Party and the Janata Dal-Secular-Congress combine on Wednesday staked claim to form the government amid bribery charges by the newly formed alliance's leader H D Kumaraswamy against the BJP that it offered his MLAs Rs 100 crore to break ranks and back the saffron party.
The allegations were promptly dismissed by the BJP, with Union minister Prakash Javadekar dubbing them as 'imaginary'.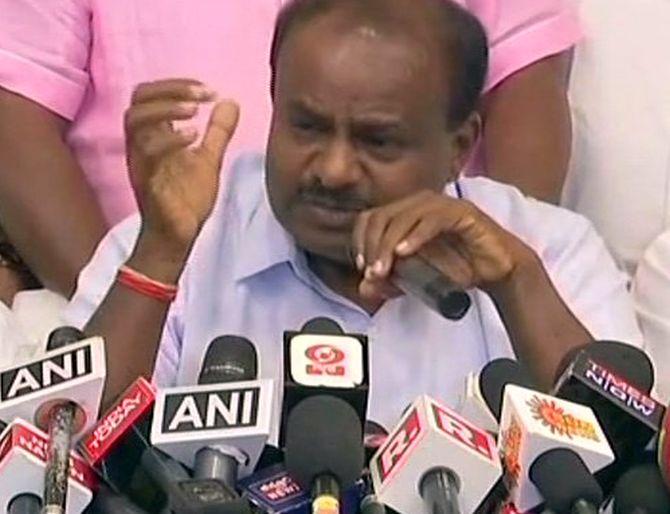 Outgoing chief minister Siddaramaiah mounted a scathing attack on Prime Minister Narendra Modi alleging that he was encouraging 'horsetrading' to ensure the BJP returned to power in the state despite falling short of a majority.
The BJP's B S Yeddyurappa and JD-S's Kumaraswamy were elected leaders of their respective legislative groups and went to Raj Bhavan where they staked claim to form the government, a day after Karnataka delivered a split verdict in the assembly polls.
It was their second meeting with Governor Vajubhai Vala since Tuesday.
Soon after his election, Kumaraswamy made the stunning claim that the BJP offered the MLAs of his party Rs 100 crore and ministerial berths if they broke away and backed the saffron party in government formation.
"Our MLAs were offered Rs 100 crore by the BJP to break away. I want to know whether this is black or white money," he told a press conference.
"The JD-S-Congress combine has 116 MLAs (including JD-S pre-poll ally the Bahujan Samaj Party)...the BJP is trying to misuse its power being at the Centre and form its government through horsetrading," he said.
Javadekar strongly rebutted the allegations, saying, "This (talk of) Rs 100 crore, Rs 200 crore is imaginary. The BJP is not doing this. We are not in the habit of practising horsetrading. This is the kind of politics JD-S and Congress do. We are going by the rule book and we will form the government."
The allegation was, however, repeated by outgoing chief minister Siddaramaiah, who accused Prime Minister Narendra Modi of encouraging horsetrading so the BJP returned to power.
"Narendra Modi is encouraging horsetrading. The governor has to give (the first) opportunity (for forming the government) to us," he told reporters.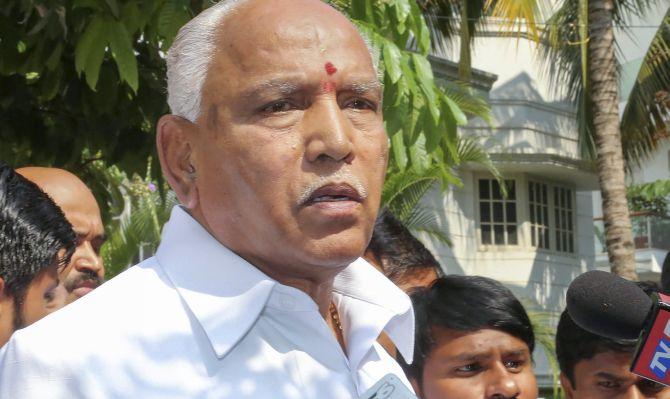 Reacting to reports about some of the 78 newly elected Congress MLAs having skipped its legislature party meeting and cosying up to the BJP, Siddaramaiah said, "We are all united".
D K Shivakumar, the resourceful minister in the Siddaramaiah government who had hosted party lawmakers from Gujarat at a resort in Karnataka to prevent 'poaching' by the BJP ahead of Rajya Sabha elections in that state, also claimed two MLAs from the Ballari region who were reportedly missing were with the Congress.
"Nagendra and Anand Singh are in touch with us. All 78 MLAs are together. If we are not, people will beat us," he told TV channel India Today.
Soon after his election as the BJP legislature party leader, Yeddyurappa made a dash for Raj Bhavan and later told reporters that he was '100 per cent confident' that he would be invited to form the government. Kumaraswamy, in his interaction with journalists, claimed the BJP was trying to repeat 'Operation Kamala' to come to power.
'Operation Kamala' was a term used in 2008 when the BJP did not have a majority of its own in the assembly and its leaders managed to persuade three Congress and four JD-S MLAs to resign, allegedly by offering them money and office.
They later contested by-polls on BJP ticket and five of them. It did the trick for the BJP as their resignations brought down the number required to prove majority in the House.
Talking to reporters after meeting the governor, Kumaraswamy said, "In a post-poll alliance of JD-S and Congress and our pre-poll alliance with BSP, we altogether have 117 MLAs (the alliance claimed an independent MLA was backing it) and the letter of their support has been given to governor."
Kumaraswamy said the governor told the delegation that he would come to a decision after consulting legal experts on the Supreme Court judgments and inform the alliance about it.
State Congress president G Parameshwara, who accompanied Kumaraswamy, said Vala told the delegation that he would act in accordance with the law and the Constitution, and also look at the precedents in states like Goa, Meghalaya, Nagaland and Manipur where post-poll alliances were invited to form the government.
There were reports that MLAs of the JD-S and Congress would be lodged in tourist resorts to ward off threats of 'poaching' by the BJP.
According to some reports, the Congress is likely to move court if the governor does not invite the Kumaraswamy-led alliance to form government.
Kumaraswamy also said he committed a blunder 12 years ago by aligning with BJP, leading to people questioning the secular credentials of his father and former Prime Minister H D Devegowda and 'God has now given now given him an opportunity to wash off the stain'.
He said his decision then had a negative impact on his father's health when people across the country started questioning his secular credentials.
Recalling his party's tie-up with BJP in 2006, Kumaraswamy said people had then said the coalition was a 'drama' staged by Deve Gowda and himself when the fact was that only he and not his father, had taken the decision to 'save' the party.
"That was the only time when I violated my father's instruction in life. Since then I never went against him. Due to my decision, national level leaders started questioning the secular credentials of my father."
Kumaraswamy said he could never forget what implication his decision had on his father's health.
"Today God has gifted me another opportunity to wash off the stains on my father's image due to me," said Kumaraswamy.
He said he had received an offer from both BJP and the Congress, but he would prefer going with the Congress, which has lent him unconditional support.
Kumaraswamy said he had received calls from leaders of some regional parties soon after the Karnataka verdict, who advised him not to be distracted this time as he had done 12 years ago.
"For me,it is not an attempt to grab power because we are not power hungry. Instead, it is an opportunity to bridge the void in society, witnessed across the country in recent times," said the JD-S leader.
JD-S had formed a coalition government with Congress after the 2004 assembly polls threw up a hung verdict. Kumaraswamy had then staged a coup and joined hands with the BJP to form a new government in February 2006.
The JD-S-BJP government also collapsed after Kumaraswamy refused to hand over power to B S Yeddyurappa as agreed to under a power sharing arrangement.
He accused the BJP of indulging in horsetrading and offering Rs 100 crore and a ministerial berth to break away from the party.
"Let the people of the state see how BJP can improve the administration when they are indulging in horse trading. Prime Minister Narendra Modi talks of eradicating black money."
"...Our MLAs were offered Rs 100 crore and cabinet rank posts to break away. I want to know whether that money will be black or white. Where has BJP stashed the money? Is it going to give it from its party fund?" Kumaraswamy asked.