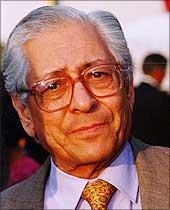 Eminent jurist and former Attorney General of India Soli J Sorabjee on Wednesday said that Karnataka High Court Chief Justice P D Dinkaran should not preside over judicial proceedings till his name is cleared of the land grabbing allegations.
"The Chief Justice of India has asked the Tamil Nadu authorities to submit a report on the allegations of land encroachment by Dinakaran. The report I believe has already been made. The CJI has now ordered an inquiry into the matter," Sorabjee said.
"In the fitness of things, till the time he is cleared of the allegations, he (Dinakaran) should voluntarily desist from taking up judicial work," Sorabjee said on the sidelines of a function at the National Law School of India University in Bengaluru on Wednesday.
"The real strength of judiciary is public confidence. If public confidence is diluted and shattered, the institution's credibility is affected," he said.
To a query on caste issues cropping up, Sorabjee shot back, "What are these different issues cropping up, raising the caste issue is very unfortunate. The Chief Justice of the Supreme Court himself belongs to the Scheduled Caste. Why can't we think of merit? What we are concerned with is the integrity of the Chief Justice."