Lucknow Imam Maulana Khalid Rasheed clarifies that his meeting on Saturday with Kanchi Shankaracharya Jayendra Saraswati had nothing to do with an out-of-court settlement of the Ayodhya issue. Sharat Pradhan / rediff.com reports from Lucknow.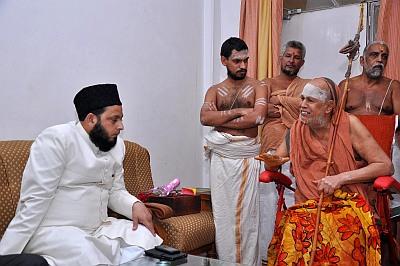 A visit by Kanchi Shankaracharya Jayendra Saraswati to the Lucknow Eidgah, where he held an hour long meeting with Lucknow Imam Maulana Khalid Rasheed on Saturday, has sparked off rumours about the possibility of an out-of-court settlement of the much-debated Ayodhya dispute.

While there was no official communication about the closed-door meeting, speculation was rife that the Kanchi seer had been sent by Prime Minister Narendra Modi with some secret formula for an amicable settlement to the centuries-old dispute that had triggered several incidents of communal violence across the country in the past.

Kanchi Shankaracharya was unavailable for comment.

Maulana Rasheed, who apart from heading Firangi Mahal -- one of the oldest Islamic seminaries in Lucknow -- is also a member of the All India Muslim Personal Law Board executive committee, has been posed many queries from various quarters since the news of the meeting broke out on Sunday.

"I was flooded with phone calls from the AIMPLB as well as from important persons from different walks of life. But the fact remains that it was just a courtesy call by the Shankaracharya, who expressed his desire to meet me during his Lucknow visit on Saturday," the Maulana told rediff.com
on Sunday.
He claimed, "The Shankaracharya basically expressed concern about the prevailing communal situation in different parts of the country and talked about the need to maintain peace and harmony."
On being asked if the Ayodhya issue cropped up during their discussion, the Maulana admitted, "Yes, it was just a cursory mention without any proposal or talk about an out-of-court settlement."
He added, "no sooner than the topic came up, I made it plain and clear to him that neither was I authorised to hold any formal negotiation on the issue nor did I hold any view different from that of the AIMPLB which has earlier declared its stand to abide by the order of the Supreme Court where the matter is pending."
This was the first-ever meeting between the two clerics.
Earlier in 2001, the Shankaracharya had called on AIMPLB president Maulana Rabe Hasan Nadwi, who is also the Rector of Lucknow-based Islamic university Darul-uloom Nadwa-tul-Ulema.
The Shankaracharya had then taken the initiative at the behest of former prime minister Atal Behari Vajpayee.
He had even gone to the extent of appealing to the AIMPLB to donate the disputed Ayodhya land to the Hindus for building a temple. However, he was told to wait for the judgement of the Lucknow bench of the Allahabad High Court, which was hearing the case then.
However, due to divergent views held by the three-judge bench, litigants on both sides preferred to go in for appeal to the Supreme Court.