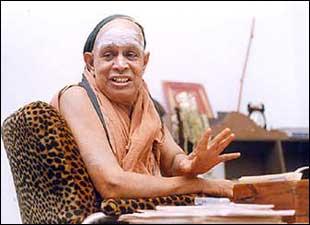 Kanchi Sankaracharya Jayendra Saraswathi and eight others were on Friday acquitted of all charges, including attempt to murder, in the 2002 the auditor Radhakrishnan assault case.
First Additional Sessions Judge P Rajamanickam in his brief judgement acquitted all the accused.
"I acquit you all. You may go," the judge said in the packed open court where the accused had appeared before him.
The Judge said approver-turned hostile witness Ravi Subramanian will be tried separately.
Jayendra Saraswathi, 80, who was the prime accused, Kanchi Mutt Manager Sundaresa Iyer and junior pontiff Vijayendra Saraswati's brother Raghu faced the main charge of criminal conspiracy and read with it, the charges of attempt to murder and abetment.
According to the prosecution case, former auditor of the mutt S Radhakrishnan was assaulted by a gang in his home here on September 20, 2002 following a conspiracy hatched by the accused assuming that he was writing letters in the pseudo name of Somasekhara Ganapadigal highlighting alleged 'irregularities' in the Sankara Mutt.
The attack was a consequence of Jayendra Saraswathi allegedly expressing frustration over such letters and asking Sundaresa Iyer and Raghu to do something about it.
Police had registered a case against 12 persons, including Jayendra Saraswati, and the chargesheet was filed in 2006 for offences including attempt to murder and criminal conspiracy.
Two of the accused died during the pendency of the case.
Deposing before the judge on March 28 to answer questions under CrPC section 313, the Sankaracharya had said the charges made out by the prosecution against him were lies.
In 2013, the Sankaracharya and his junior were acquitted by a Puducherry court in the case related to the September, 2004 murder of Kancheepuram Varadaraja temple manager Sankararaman.
The seer was charged with hatching criminal conspiracy to do away with Sankararaman as he had 'exposed' alleged irregularities in the mutt, but the court acquitted him and others.