California State Attorney General Kamala Harris and Congresswoman Loretta Sanchez battle each other to become California's next senator, after winning the top two spots in an open primary on Tuesday, reports Ritu Jha from California.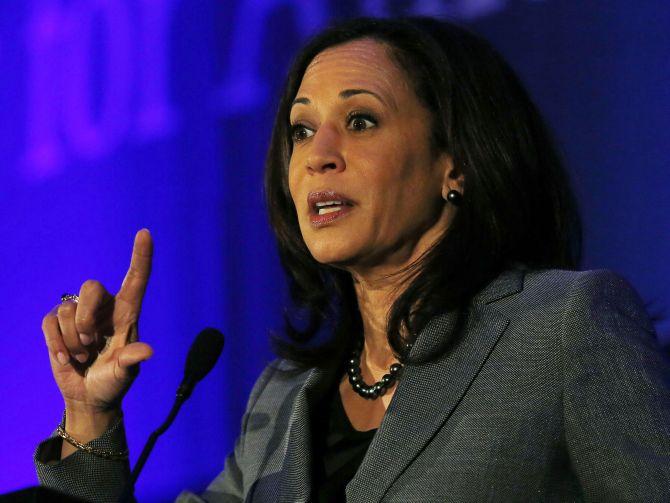 IMAGE: California Attorney General Kamala Harris speaks at the Center for American Progress' 2014 Making Progress Policy Conference in Washington, District of Columbia, US. Photograph: Gary Cameron/Reuters
California State Attorney General Kamala Harris on Tuesday won the California primary election to advance in United States Senate race.
"Our unity is our strength and our diversity is our power. You know, I am a proud daughter of California," said the Indian American, who received 40 percent votes, highest among 33 candidates vying for the US Senate seat to be vacated by Democrat Senator Barbara Boxer.
Haris, the Democrat will face her party contender Congresswoman Loretta Sanchez, who received 16.5 percent votes, in November 8 elections. Interestingly, no Republican made it to the final, making straight fight between two Democrats.
According to California's relatively new top-two voting system, only top two candidates of any party could go to the final election.
Born in Oakland, California, Harris's mother is an immigrant from Chennai and father is a Jamaican American.
Harris recently received an endorsement from California Governor Jerry Brown, who seldom wades into contested intra-party primaries.
"She (Harris) is strong. She is intelligent. She knows what she's doing," Brown said.
Harris during her campaign said, "We need a Democratic majority in the United States Senate to reform our criminal justice system to holding polluters and Wall Street accountable."
According to the Asian American and Pacific Islander 2012 data, there are over 1.7 million Asian Americans registered to vote in California.
Another much talked race in this election was California Congressional District 17. The campaign was much smoother this time compared to the last 2014 election, where both Democratic contenders Ro Khanna and Congressman Mike Honda, an incumbent, involved in mud-slinging.
Khanna threw the election night party at David restaurant in Santa Clara. Khanna received 37. 8 percent votes and Congressman Honda received 38.1 percent votes. Both candidates would be facing each other in the November 8 election.
Khanna looked pretty happy and confident with his wife Ritu and parents present along with the Indian American community and even San Jose Mayor Sam Liccardo at the party.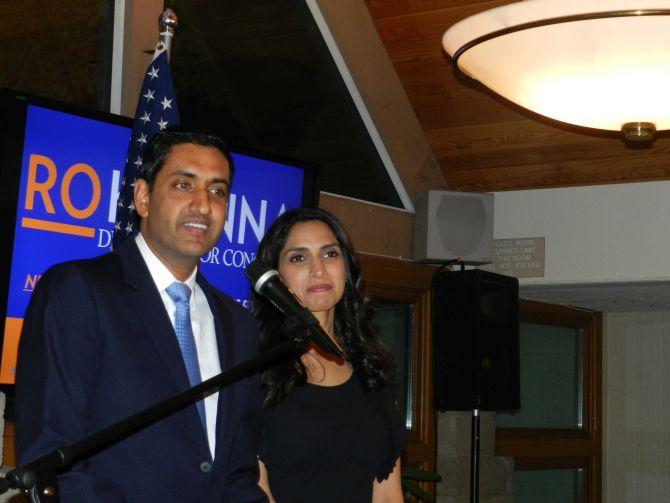 IMAGE: Democratic contenders Ro Khanna with his wife Ritu at David restaurant in Santa Clara. Photograph: Ritu Jha/Rediff.com
"I am looking for victory tonight. People are ready for a change," Khanna told Rediff.com on the sidelines of the election party.
He said he gives credit to his wife for reaching this far, and the Indian American community.
"There is a mood in the country that it's time to have a new representative," said Khanna.
Khanna in his speech said his parents taught him one thing and that is to stay connected to your roots.
"This is not a celebration, this is the beginning. It's a beginning of a long effort and would ultimately win in November and it is a long effort to change the country," Khanna said further during his speech.
Kamil Hasan, a general partner of Granite Hill Capital Partners, LLC, whom Khanna called his mentor during speech, told Rediff.com that he has been supporting Khanna for the last 10 years and was very impressed with him when he first ran against Tom Lantos, a Democratic from California's 12th congressional district.
"I was impressed by his passion, his idealism and by his hard work," said Hasan, who did the first fundraising for Khanna.
"I know he will win this time," Hasan added.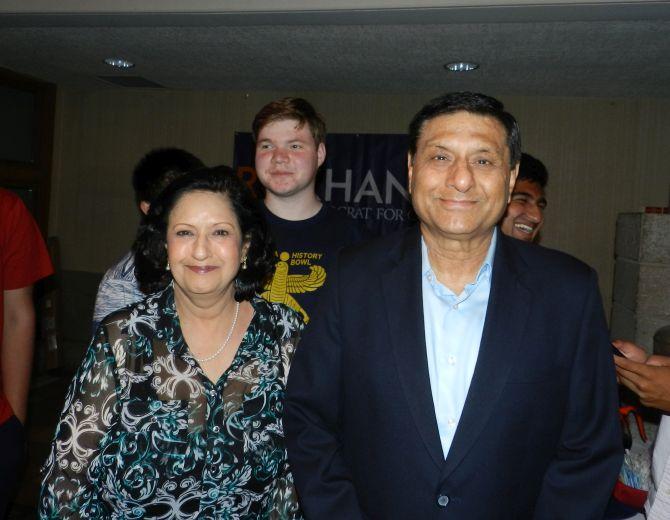 IMAGE: Ro Khanna's parents at David restaurant in Santa Clara. Photograph: Ritu Jha/Rediff.com
"We need a candidate like him. With the deadlock in the Congress in WashingtonDC, we need someone like Ro, who is young and dynamic and very hardworking. He understands the issues very well. He can do a great job for the Silicon Valley as well as for the Indian American community. I am so happy he has done so well," Hasan said.
When asked his views about Congressman Honda, Hasan said that he had supported him in the past but he has been a Congressman for too long.
"I think he (Honda) has lost his effectiveness," said Hasan and added that he does not understand the Silicon Valley issues.
"We need a young dynamic leader who has a vision for the country going forward," said Hasan.
Yogi Chugh, former Chair of the Tri-City Democratic Party, California told Rediff.com that the Indian American community came in large numbers to support Khanna.
"Ro's message has resonated well with the district and he is positioned for a decisive win in November," said Chugh, a long time supporter of Khanna.
San Jose Mayor Sam Liccardo said it is great to see Khanna in a position to win the race.
"We know he is going to give a great race in November and from this June result it is obvious that he is due for a very big win," said Liccardo.
"We critically need Ro's intelligence, his ethics, and his understanding of the Silicon Valley that ensures that we continue to grow the economy and care for those who are left behind," Liccardo added.
Liccardo though did not endorse Ash Kalra, Councilman City of San Jose who ran for California Assembly District 27.
Kalra, who faced over half a dozen contenders stood second, receiving 17. 6 percent votes and would be facing Madison Nguyen, who received 37 percent vote in November.