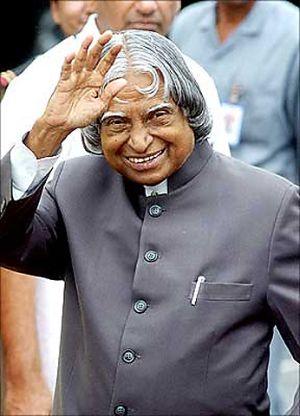 Former President A P J Abdul Kalam had congratulated a constable for remaining alert throughout the day, minutes before he collapsed at the Indian Institute of Management and died in Shillong on Monday night.
"The former President congratulated an SOT (special operation team) personnel for being alert throughout the road trip from Guwahati to Shillong last evening," East Khasi Hills district SP M Kharkrang told PTI.
He said the personnel at first got scared after Kalam summoned him. But then the VVIP acknowledged the constable for doing his duty properly.
Mourning the loss, Kharkrang said, "What makes him truly great is his acknowledgement of the simple things in life done rightly."
Kalam arrived at 5:40 pm at the IIM guest house in Shillong and began delivering a lecture on 'Creating a live-able planet' when he collapsed and rushed to the Bethany hospital.
He was declared dead at 7:45 pm by the medical board of the hospital.
Meghalaya government has declared a state holiday on Tuesday as a mark of respect to Kalam who breathed his last in the city.