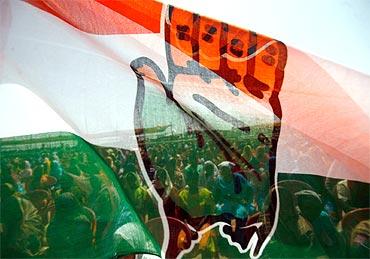 The Congress may have a good chance of a win in the upcoming Karnataka polls, but party leaders are up in arms against the manner in which ticket distribution has been done, says Renu Mittal
The more things change, the more they remain the same. Rahul Gandhi, as the vice president of the Congress is now virtually in charge of the organisation. He has taken over from his mother and party president Sonia Gandhi and has been calling the shots in the appointment of Pradesh Congress Committee presidents and his first major challenge was the ticket distribution of party candidates for the coming elections in Karnataka, a state which goes to the polls next month.
With Bharatiya Janata Party leader Yeddyurappa having split the party in the middle to some extent, the Congress is seen to be sitting on a good wicket, provided the party can run a united campaign and at the same time give tickets judiciously and cleverly to the right candidates who can win.
Observers had been sent, surveys had been done and the findings were that 30 to 40 per cent of the sitting Members of Legislative Assembly should be changed and new faces fielded.
It was decided that those who lost more than twice in the last elections and those who lost by more than 20,000 would not be given tickets. It was also decided that the relatives of senior leaders would also not be given tickets.
Rahul's close confidant Madhusudan Mistry is in charge of Karnataka and he has sent the observers and had the surveys done. Another Rahul confidant, Jitender Singh was made a member of the screening committee for Rajasthan.
A team of senior leaders led by Defence Minister A K Antony and which includes Ambika Soni and Vayalar Ravi have been constituted to put correctives in place and ensure that nothing goes wrong.
So far, the party has announced 177 tickets and the party leaders are already up in arms. Almost 99 per cent of the sitting MLAs have been given tickets with the party leaders making no attempt to bring in new faces.
It was decided to play safe and remain with the status quo, with party leaders asking what Mistry was doing all these days, if this was the net result.
Srinivasa Prasad, a sitting MLA is on weekly dialysis as both his kidneys have packed up but he has also been renominated much to the amazement of most party leaders.
Thimmapur R B has lost more than twice, Raja Venkatappa Naik has lost thrice, Basavaraj Rayareddi has lost by 36,000 votes, Kariyanna by more than 20,000 votes, Kagodu Thimmappa is 84-years-old, Somashekhar S T and Devaraj R V have each lost twice, and Vasu has been defeated thrice.
No one knows why the party decided to put certain guidelines in place, if they had to be violated with such impunity.
It was decided not to give tickets to relatives but Kailashnath Patil, the son of senior leader Veerandra Patil has been given a ticket in the first round,; Bangarappa's son, Kumar Bangarappa S has also been given a ticket, while the father-son duo of M Krishnappa and Priya Krishna have been fielded from adjoining constituencies.
A number of senior leaders are up in arms as they have asked for tickets for their relatives but were denied. The list was sent to senior leader Ahmed Patel to redo the damage and now discussions will continue after Sonia's return from abroad on Tuesday.
The leaders are M Mallikarjun Kharge, Union labour and employment minister (asking for his son), Union Minister of Micro, Small and Medium Enterprises K H Muniyappa Muniyappa (for daughter), Jafar Sharif (for grandson), former Karnataka Chief Minister N Dharam Singh (for son), All India Congress Committee general secretary B K Hariprasad (for brother) and so on.
These leaders say there should be a single yardstick: if tickets are to be denied, they should be denied to all, and if they have to be given, they should be given to all, of course keeping merit in mind.
The decision to announce tickets much in advance, according to the Antony committee report, have also been given a quiet burial. Outsiders who had applied for tickets from other parties were also adjusted and given tickets, even though Rahul himself spoke at length about this during the Jaipur Chintan Shivir on this issue.
He had said; "Congress party is the biggest political organisation in the world. Par yahan koi niyam aur kannon nahin chalte. Shayad is party mein ek bhi niyam aur kanoon nahin hai. Har do minute mein ek naya kannon banta hai aur purana wale ko daba diya jata hai aur kisi ko nahin pata ki is party ko kaunse niyam chalate hain. Mazedaar sanghathan hai. Kabhi kabhi mein apne aap se puchta hoon, bhaiya ye kaise chalta hai? Kaise election jitta hai? Ye kaise aur political parties ko khatam karta hai? (But no rules or regulations apply to the party. Maybe there are no rules or regulations in the party. It seems that they are changed and the old ones buried, and no one knows what rules to follow. This is a funny organisation. Sometimes, I ask my self: how does this all work? How does the party win the elections? How does tour party overpower other parties?
Rahul had also said a lot more things on the way the party has been running and what correctives need to be put in place.
But significantly, in his first major test when it came to ticket distribution for a key state such as Karnataka, where the Congress has a good chance of wresting the state back from the BJP, he has also opted for status quo and going along with the same tired faces, defeated MLAs, discredited sitting MLAs and very few women, at least in the first big list, which is something all party leaders rave and rant against but end up 'not finding any worthwhile women to whom they can give tickets'.