The process of demolishing two "unsafe" hotels in subsidence-hit Joshimath began on Thursday, two days after the exercise was stalled due to protests by their owners demanding compensation, while the evacuation of affected people to safer locations continued.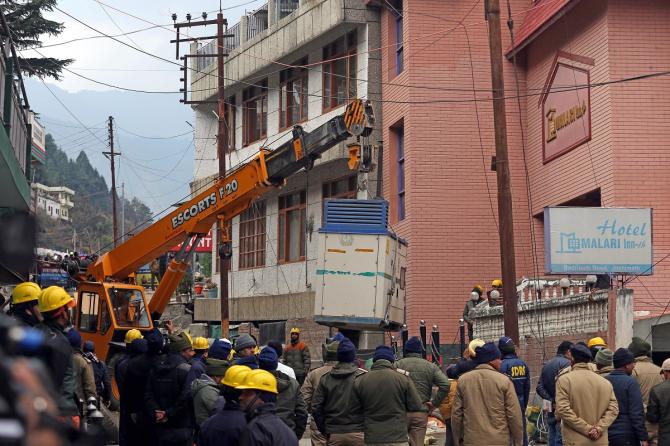 In Delhi, Union Home Minister Amit Shah assessed the situation in Joshimath and steps taken to ameliorate people's hardship at a meeting attended by Union ministers Nitin Gadkari, R K Singh, Bhupendra Yadav and Gajendra Singh Shekhawat and top officials.
Joshimath, the gateway to famous pilgrimage sites like Badrinath and Hemkund Sahib and international skiing destination Auli, is facing a major challenge due to land subsidence.
Hotels Malari Inn and Mount View had developed cracks and were precariously leaning towards each other posing a threat to the settlements around them, officials said.
The demolition began following an agreement between the administration and the property owners.
The buildings are being razed under the technical supervision of Roorkee-based Central Building Research Institute with Hotel Malari Inn, disaster secretary Ranjit Sinha told reporters in Uttarakhand.
The demolition was scheduled to be undertaken on Tuesday, however, it could not be done as their owners staged a dharna demanding compensation along the lines of what was offered to those displaced by the Badrinath renovation masterplan.
"Everything will be done under the technical supervision of CBRI. The hotels will be dismantled in such a manner that no harm is caused to the structures nearby," an official engaged in the operation said.
Meanwhile, the Uttarakhand government told the Delhi high court that authorities are rehabilitating the affected families in Joshimath, and that the National Disaster Response Force and State Disaster Response Force have been deployed in the area.
On Thursday, 27 more families moved to temporary relief centres even as the number of houses developing cracks in the town rose to 760, Secretary Disaster Management Sinha told reporters in Dehradun.
A total of 169 families consisting of 589 members have so far been shifted to relief centres.
There are 835 rooms serving as relief centres in Joshimath and Pipalkoti which can together accomodate 3,630 people, he said.
An interim assistance of Rs 1.5 lakh has been paid so far to 42 affected families.
Chief Minister Pushkar Singh Dhami said a committee would decide the market rate for compensation to be paid to the families affected in Joshimath keeping in mind the interests of stakeholders.
A 19-member committee headed by Chamoli district magistrate Himanshu Khurana was set up on Wednesday to distribute an interim assistance of Rs 1.50 lakh among each affected family and decide the rate at which compensation is to be paid.
"People will get the best compensation possible. The state government will do all it can to properly rehabilitate them. Protecting their life and property is our top priority," Dhami said at a meeting with the committee.
On the Rs 1.50 lakh being paid immediately to each affected family for which Rs 45 crore has already been released, the chief minister said, "It is only an interim relief. Details of the final compensation and rehabilitation are being worked out."
Dhami said the interim assistance would reach the bank accounts of the families affected by this evening or Friday.
Samajwadi Party chief Akhilesh Yadav, however, accused the BJP government of being in a slumber despite the Joshimath tragedy and demanded proper compensation for those who have suffered losses.
Speaking to reporters in Lucknow, Yadav said that BJP government both in Uttrakhand and the centre was ignoring its responsibility towards the affected families in Joshimath.
Dhami further said a wrong impression was being created about Joshimath that could hit the livelihoods of the local people.
"The winter games in Auli are beginning in February and the Char Dham Yatra in a few months. Sending a message outside Joshimath that the entire town is sinking is wrong. It will adversely impact the local economy," Dhami said.
Dhami said only 20-25 per cent houses in Joshimath were affected by land subsidence and not the whole town.
He said creating a negative impression could harm the local people's livelihoods, who depend on earnings generated from tourism and pilgrimages and called for collective efforts to strengthen the morale of people to overcome this phase.
When told of reports about cracks appearing in houses in Karnaprayag, he said these had been there for some time.
Around 80 km from Joshimath, at least 50 houses at Bahuguna Nagar in Karnaprayag have been developing cracks since 2015, according to reports.
Locals hold gradual land subsidence responsible for the fissures and attribute it to the widening of the national highway, violation of norms in construction works related to mandi parishad, erosion caused by the Pindar river and unsystematic flushing out of rainwater.
Meanwhile, a team of scientists from different institutions is examining the subsidence issue in Joshimath and adjoining areas.
The Wadia Institute of Himalayan Geology is conducting geophysical and seismological investigations while the CSIR-National Geophysical Research Institute (NGRI) is preparing a map on the basis of the geophysical study of the region, Sinha said.
The geological Survey of India is conducting a geological study of Joshimath as well as places which have been identified for the relocation and rehabilitation of the affected people.