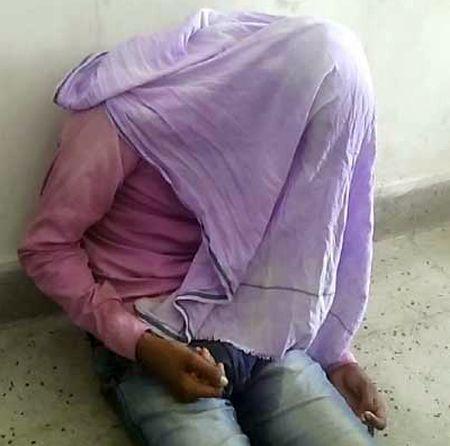 A man arrested in Jharkhand over WhatsApp messages on beef found inflammatory by the police died in custody on Sunday, October 9.
Jamtara Superintendent of Police Manoj Kumar Singh said the accused, identified as Minhaz Ansari, died during treatment.
The doctors treating him said he died of acute encephalitis at the Rajendra Institute of Medical Sciences in Ranchi.
Minhaz was arrested from Dighari under Narayanpur police station on charges of uploading five objectionable photos on October 2, and an FIR filed against him under sections 153/16, 295/295A, and 67 IT Act.
When Minhaz, 22, was shown to the media last week after his arrest, he was slumped against a wall, his face covered, and he appeared limp. His condition raised suspicion that he was unable to walk or even stand without support.
Four days later, he was dead.
Confronting allegations of excesses, the police have ordered an inquiry but claim Minhaz died of encephalitis. They admit to "lapses" by police officer Harish Pathak, who was in charge of the arrest and questioning.
Pathak has been suspended and charged with murder.
His mother, however, lodged a complaint with the Narayanpur police station alleging assault of her son.
With inputs from PTI