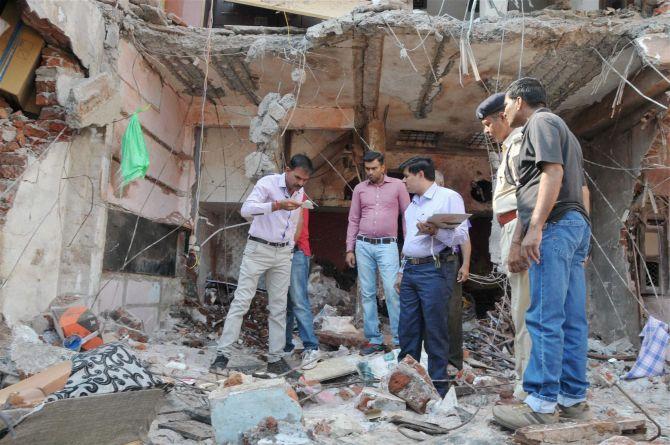 After groping in the dark for nearly a month over the massive explosion in Petlwad town that killed 89 people, Madhya Pradesh police are pinning hopes on the outcome of the DNA profiling of three unclaimed bodies of from the explosion site to ascertain whether Rajendra Kasawa, the prime accused in the case was dead or alive.
"We have not yet reached any conclusion yet on whether Rajendra Kasawa is dead or alive. We hope that the DNA test report of the three unclaimed bodies will bring out the truth," Jhabua Superintendent of Police Sanjay Tiwari said.
The law enforcers have sent the samples of the family members of the prime accused for matching it with the profile of three bodies to the Forensic Science Laboratory in Sagar district in the state, a police officer said.
Despite announcing a reward of Rs one lakh immediately after the explosion on September 12 in a building in Petlawad town, police have not been able to solve the mystery behind Kasawa's 'disappearance'.
According to an eyewitness, a minor explosion had taken place at Kasawa's godown first and those who were near the new bus stand rushed to the spot to see what had happened, he said.
After four minutes or so, a series of explosions in the godown near a public place took place that threw people in air in an area of 100 metre and blew up a building housing a hotel where people had thronged for breakfast on September 12 morning, they said.
The blast in the stockpile of mining explosive unlawful stored by Kasawa at a public place, ripped through a crowded area, killing 89 persons and injuring more than 100 people. Kasawa had been booked under 304 (manslaughter) of IPC and other sections of Explosive Substance Act, after the incident.