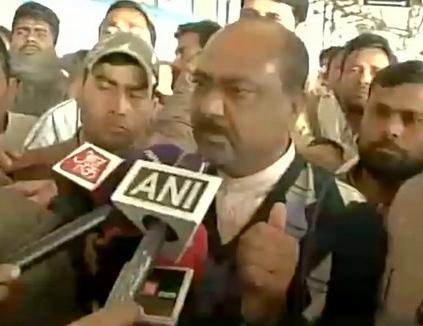 Suspended Janata Dal-United Member of Legislative Assembly Sarfaraz Alam was on Sunday arrested for allegedly misbehaving and abusing a Delhi-based couple on board Rajdhani Express.
The incident took place on Dibrugarh-New Delhi Rajdhani Express on January 17. Alam was called for questioning again on Sunday after which he was arrested, Railway Superintendent of Police P N Mishra told PTI.
Alam, the third term JD-U MLA from Jokihat in Araria district, is subjected to more questioning after his arrest, the SP said.
The JD-U MLA, who is the son of Rashtriya Janata Dal Mwember of Parliament from Araria Mohammad Taslimuddin, was allowed to go home last night on medical grounds after four hours of questioning in connection with the case.
During Sunday's questioning, the MLA admitted to travelling in the train on January 17 but claimed he did not abuse the couple.
Earlier, he had denied travelling in the train. The JD-U has suspended Alam in the wake of Rajdhani Express incident.
His suspension came hours after Bihar Chief Minister Nitish Kumar categorically said law would take its own course in the case.
"Be it MP or MLA, nobody is bigger than the law. The police has freedom to act lawfully against those breaking law," Kumar had said on Saturday.