Janata Dal-Secular patriarch H D Deve Gowda on Wednesday defended the decision of aligning with the Bharatiya Janata Party for the 2024 Lok Sabha polls, stating that it was aimed at saving the party, and assured that he and his political outfit will stick to its secular credentials and never let minorities down.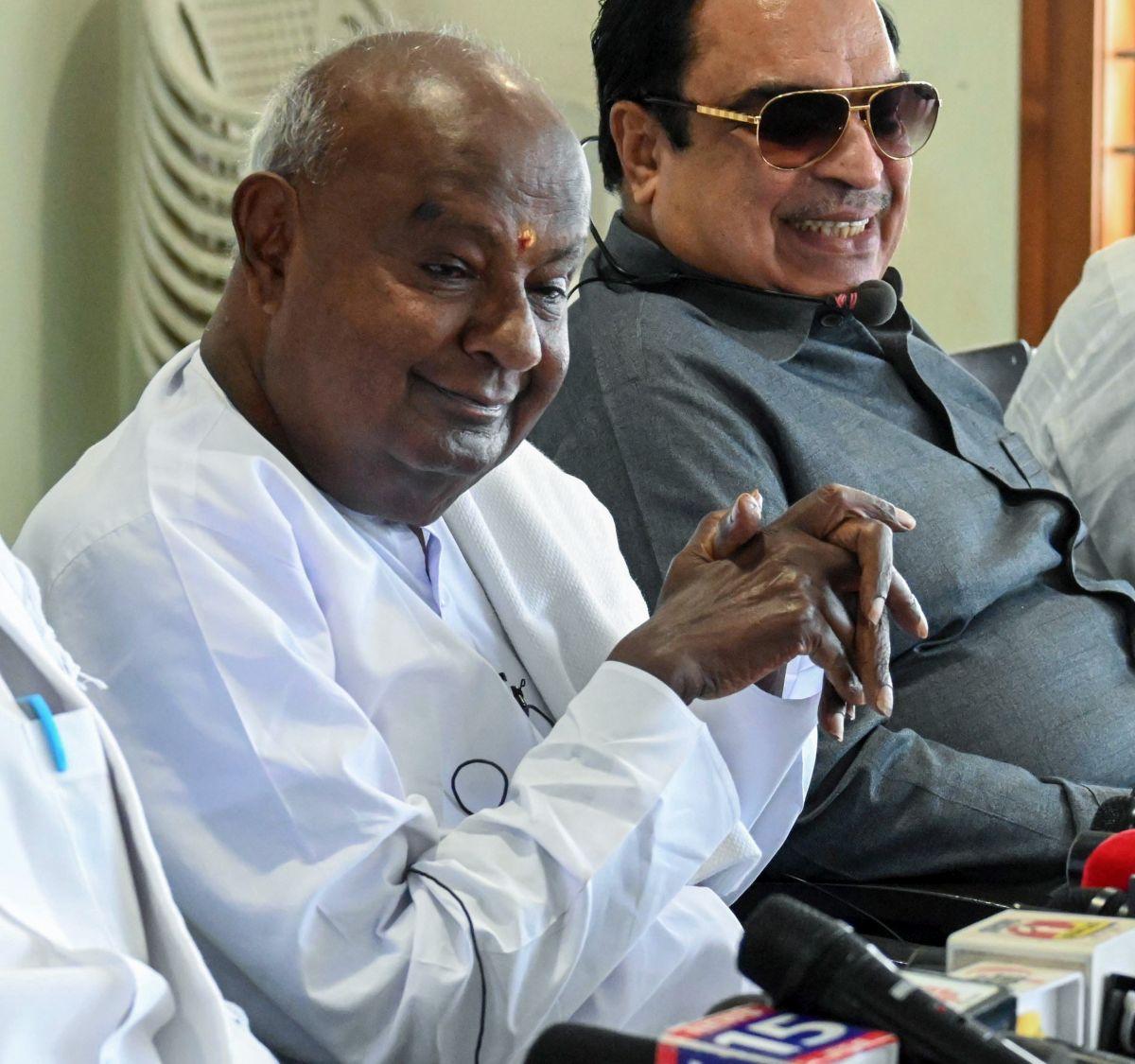 The former prime minister also sought to clarify that the Janata Dal-Secular was not power-hungry and does not practice opportunistic politics.
The JD-S on Friday decided to ally with the BJP following a meeting of its leader and former Chief Minister H D Kumaraswamy (Gowda's son) with Home Minister Amit Shah and BJP national president J P Nadda in New Delhi.
"We (JDS) have never done politics by even slightly letting down our secular credentials and there is no question of doing it in the future too. I'm saying this very frankly. Before Kumaraswamy met BJP leaders, I had met the Union Home Minister (Amit Shah), there is nothing to hide in it, and had spoken to him on the situation in Karnataka politics in detail," Gowda said.
Speaking to reporters, he said there is nothing for anyone to fear, as in 50 years of political struggle, he had not let injustice happen to any community from this party.
"I want to make it categorically clear, including to the media -- we are not power-hungry politicians. In the entire career of Deve Gowda, hardly one-and-half years as prime minister, 10 months as chief minister -- after preliminary discussion with Shah, I myself asked (Kumaraswamy to go ahead)," he said.
Further stating that his meeting with Shah was the first such meeting he had with the Union Home Minister in the last nearly 10 years, Gowda said, "The Prime Minister is a busy man, why should I (disturb him)? I did not meet Prime Minister Narendra Modi even to this day on this issue."
"After explaining the political situation in Karnataka to Shah, I told him I will send my son, who is leading the party. Even before taking the decision, all the 19 MLAs of our party, 8 MLCs and defeated candidates were consulted and it was their opinion after discussion that we should now think of having an understanding with the BJP," he said.
Noting that there is no resistance from the party workers to the alliance with the BJP, Gowda, asserting that the JD-S is not a power-hungry party, hit out at the Congress and asked "who was responsible for the collapse of the Kumaraswamy government (Congress-JDS), what was the game plan behind it? Doesn't the Congress leadership know this?"
"Rahul Gandhi came and said Deve Gowda is the 'b-team' of BJP, this is the certificate given to me (by the Congress)," he said.
Asserting that the JD-S does not practice opportunistic politics, Gowda while defending the decision to ally with the BJP said, "This party has to be saved, which has been his pain and struggle for decades, and there is no selfishness in this....I took the decision."
On Devadurg JD-S MLA Karemma Nayak expressing displeasure against her party's leaders for forging an alliance with the BJP, Gowda said he spoke to her on Tuesday night and she is with the party and will continue to stand with the leadership, and she had only spoken about some differences locally.
Asked about voices of revolt in the JD-S Kerala unit, he said, "I do agree...I have discussed with friends in Kerala. I'm in a crisis, I will have to save the party in Karnataka. I'm ready to give up this party's president post to Kerala leaders, I will not remain the president".
Recalling that Kerala JD-S leader Mathew T Thomas helped him save the party, when Kumarawamy aligned with BJP in the past, he said, "I'm prepared to hand over the party to him."
Noting that the JD-S will not and has never let down minorities, the former PM said the party may align with any one, but the protection of minorities will continue.
The JD-S had earlier formed governments in coalition with both BJP and Congress respectively for 20 months from January 2006, and for 14 months from May 2018, with Kumaraswamy as the chief minister.
Hitting out at Congress' leaders for alleging that Gowda has proved JD-S is the 'b-team' of BJP by allying with them, Kumaraswamy said if he had gone with BJP on the invite of Shah, instead of going with Congress, after the 2018 Assembly polls, he could have run the government for full five years.
Accusing Congress of destroying secular forces across the country, Kumaraswamy alleged they even tried to "finish off" the JD-S after having an alliance with the party.
Stating that the JD-S did not send Siddaramaiah out of the party, Kumaraswamy alleged that in 2004 Siddaramaiah had tried to meet then BJP leader Venkaiah Naidu in Chennai to have an understanding and form a government.
"Today Siddaramaiah is preaching JD-S secular ideology," he chided.
Asked about some minority leaders now planning to quit JD-S following alliance with BJP, Kumaraswamy said, "Such things keep happening in politics, there is nothing big in it....we have tried to explain everything and process to minority leaders in the party, including JD-S state president C M Ibrahim. We have not illtreated anyone."
Ibrahim has been conspicuous by his absence at recent party meetings, and is said to be upset.
Kumaraswamy said the decision to ally with the BJP has been taken to save the party, considering political developments in the country and to protect Karnataka's interests.