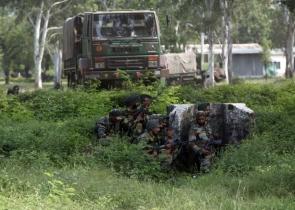 The security establishment in Jammu and Kashmir was pulled up by Chief Minister Omar Abdullah on Friday for the "lapses" in containing the terror attack near Jammu after three terrorists had a free run for nearly an hour between the two strikes.
A detailed report on the fidayeen (suicide) attack on a police station and a nearby army camp by terrorists on Thursday after they entered India from across the border was, meanwhile, sent by the Union home ministry to officials accompanying Prime Minister Manmohan Singh to Washington. The attack, in which 10 people including an army lieutenant colonel was killed, is expected to be raised by Dr Singh during his meeting with his Pakistani counterpart Nawaz Sharif in New York on September 29. The three terrorists were also killed in the encounter.
The security establishment drew flak from Omar for the "non-adherence" of the standard operating procedures in containing the audacious attacks.
Chairing a high-level meeting of Unified Headquarters in Jammu in the aftermath of the strikes in Kathua and Samba, Omar asked the police as to why no action was taken for nearly 40 minutes -- the time gap between the first attack on the police station in Hiranagar and the second strike on the army camp located at Samba. The CM pulled up the local police for failing to act and prevent casualties whereas the army claimed that they ensured that the terrorists were not allowed to move out of the camp, official sources said.
According to the sources, Inspector General of Police (Jammu) Rajesh Kumar was informed about the attack briefly at 7:05 am, who in turn immediately informed Himachal Pradesh's Yol-based general-officer-command. Terrorists first stormed the police station at 6.45 am.
However, there was virtually no attempt made to stop the terrorists on the run -- which angered the CM who asked police as well as the army to respond quickly in such situations. Kathua and Samba areas fall under the domain of IX Corps based in Himachal Pradesh.
Omar, while expressing deep sorrow over the loss of civil and police and army personnel in the attacks, stressed the need for further strengthening the surveillance and security measures to prevent such acts in future. The CM, who flew into Jammu immediately after being informed about the terror strikes, was briefed at the meeting on the operations to combat the attack.
Top brass of the army, security forces, J&K police and civil administration were present in the meeting. "We have sent the report on terror attacks in Jammu to officials accompanying the prime minister," a senior home ministry official said in New Delhi.

Image: Soldiers take up position near an army camp during a gun battle in Mesar in Samba district on Thursday
Photographs: Mukesh Gupta/Reuters