External Affairs Minister S Jaishankar on Monday lauded then prime minister Atal Bihari Vajpayee's handling of the diplomatic situation following the nuclear tests in 1998 and said that within a space of two years India had engaged all the major countries of the world.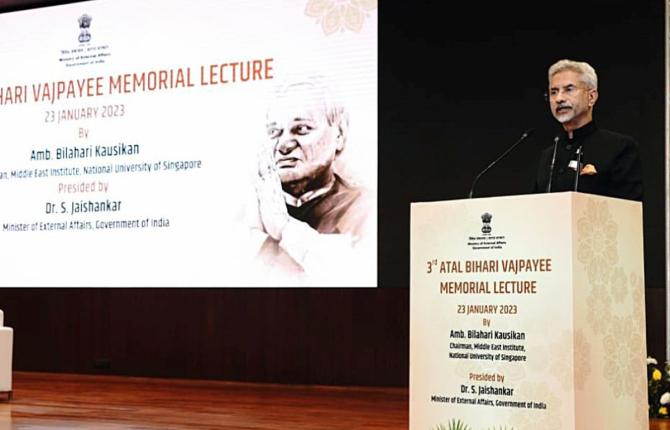 Presiding over the third Atal Bihari Vajpayee memorial lecture that was delivered by former Singaporean diplomat Bilahari Kausikan in New Delhi, Jaishankar also hailed Vajpayee's stint as an external affairs minister, and his role in strengthening India's ties with the United States and Russia.
The external affairs minister said the fundamentals of mutual respect, mutual sensitivity and mutual interest that are talked about now in terms of the modus vivendi with China, a lot of it is credited to Vajpayee.
Asserting that Vajpayee was never 'impervious' to the challenges of terrorism, Jaishankar hailed his realism in using all instruments at his command to actually try to forge a basis of relationships in this region which would very explicitly abjure terrorism.
Talking about the 1998 Pokhran nuclear tests, the external affairs minister urged people not to look just at the tests but also look at the diplomacy that followed them.
"Within a space of two years after the tests, we had engaged all the major countries of the world, had actually brought them around. When you had the visit of a president (Bill) Clinton, PM (John) Howard, PM (Yoshiro) Mori, visit of president (Jacques) Chirac. It was actually the post-test diplomacy, which I think anybody who is in the field of diplomacy, should look at and seek to draw lessons," he said.
"I was at that time posted in Japan and it was a relationship that was particularly affected by the nuclear tests. But we always drew from the prime minister's confidence that we would find a way of settling it down and indeed today when I look at that relationship, I marvel at the wisdom and the maturity with which prime minister Vajpayee got all of us to look at that particular challenge," Jaishankar said.
India conducted five nuclear tests of advanced weapon designs in May, 1998 at the Pokhran range in Rajasthan.
Jaishankar said Vajpayee also transformed the relationship with the US in the post Cold War environment.
He said Vajpayee also imparted continuity and stability into our ties with Russia.
Vajpayee served as prime minister thrice -- first for a term of 13 days in 1996, then for a period of 13 months from 1998 to 1999 and then for a full term between 1999 and 2004.
The lecture was delivered by Kausikan, former Permanent Secretary of the Ministry of Foreign Affairs of Singapore.
Kausikan is currently serving as chairman of the Middle East Institute at National University of Singapore.
In his lecture, Kausikan said, "We are all confronted with two inescapable realities. First, no country can avoid engaging with both the US and China. And dealing with both simultaneously is a necessary condition for dealing effectively with either."
Without the US, there can be no balance to China anywhere, he said, adding that without engagement with China, the US may well take 'us for granted'.
The latter possibility may be less in the case of a big country like India, but it is not non-existent, he said.
"Second, I know of no country that is without concerns about some aspect or another, of both America and Chinese behaviour.
"The concerns are not the same, nor are they held with the same equal intensity and they are not always articulated," he said.
"Indeed, they are often publicly denied. But they exist even in the closest of American allies, and in States deeply dependent on China. Dealing with major powers with whom we cannot avoid working but do not entirely trust requires strategic autonomy," Kausikan said.
Even the closest of American allies are moving in that direction, Kausikan said.
This does not mean that alliances or less formal arrangements, like the Quad will break up, but they will become looser over time as countries who want to preserve the widest possible range of options for themselves, including for those who can, the nuclear option, he said.
Few if any country will commit to aligning themselves across the entire gamut or the entire range of issues with any single major power, he noted.
This will encourage the natural multipolarity of a diverse world and certainly 'our region is a naturally multipolar region', he added.
Asserting that multipolarity will not, however, be symmetrical, Kausikan said the US and China will remain at the centre of the international order.
It is also unlikely that the international system that will evolve around the central axis will have as clear a definition as the bipolar Cold War structure, the international order will become more fluid, he said.
Complex interdependence is making it increasingly difficult to neatly classify relationships as friend or foe, Kausikan said.
Ambiguity is an intrinsic characteristic or relationships where interdependence creates ties, deep ties, but the very extent of those ties expose those vulnerabilities, he said.
Globalisation is under stress but the more apocalyptic predictions about its future demise lack credibility, he said.
The politics, domestic, international or globalisation, have become more difficult for almost everybody, Kausikan noted.
But the technologies that drive globalisation and interdependence cannot be unlearned and they have their own dynamic that may be slowed but not stopped, he asserted.
International relationships will become more complicated as countries grapple with political and economic considerations that pull them in different directions, he predicted
"What I believe is emerging is an order of dynamic multipolarity. Shifting combinations of regional middle powers and smaller countries will continually arrange and rearrange themselves in variegated and overlapping patterns along the central axis of US China relations, sometimes tilting in one direction, sometimes tilting the other way, and sometimes going their own way, ignoring both the US and China as their interest in different domains and circumstances dictate," he said.