A stunned silence descended.
Unfazed, Vajpayee thought for a while, then replied with smiling eyes, 'Kashmir jaisa maamla hai [The matter is a bit like Kashmir].'
A fascinating excerpt from Sagarika Ghose's Atal Bihari Vajpayee.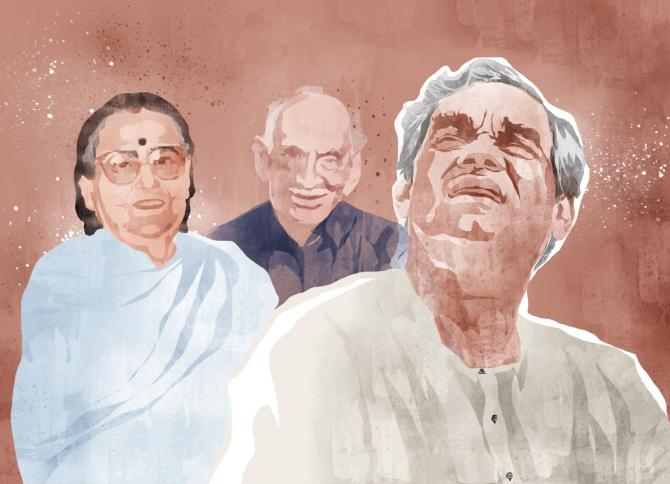 Through the changing seasons of his life Vajpayee held one relationship as his anchor and emotional centre: His relationship with Rajkumari Kaul, the married woman he lived with and whose family he adopted as his own.
'You could say Vajpayee loved both Mr and Mrs Kaul equally,' recalled N M Ghatate. 'Mrs Kaul was his close friend who simply happened to be a woman. I have no idea whether their relationship was purely platonic or not, and frankly it made no difference.'
The world saw the living arrangement as an unconventional, even outrageous menage a trois; to the three protagonists it was a perfectly natural extension of the youthful friendship between Rajkumari and Vajpayee, college friends in Gwalior who grew up together and knew each other's families.
How did he become such an integral part of the Kauls' life?
In the 1950s Vajpayee was sharing an austere, dormitory-like house at Rajendra Prasad Road with L K Advani and another MP, Premjibhai Assar. The Kauls' home at Delhi University, a more comfortable and inviting spot, became like a second home for him. Vajpayee would later recall that once, when Brij Narain and Rajkumari visited him at Rajendra Prasad Road, they were shocked to find that he was using a laundry bar as body soap.
Since he had been a fixture in their home for so long, when Vajpayee acquired his own bungalow, 6 Raisina Road, it was perfectly natural for the Kauls to move in with him.
The Vajpayee establishment, even when he was prime minister, was very private. Vir Sanghvi, who used to visit the prime minister's household often recalls that unlike other politicians, in Vajpayee's house, there were never any political workers or party leaders around.
Vajpayee would return from work, change into his lungi and kurta, sit in a special chair and be handed a cup of soup. 'It always looked as if he really needed to unwind after a long and tiring day.'
'Not only were there no PAs and secretaries there, even the phone rarely rang,' recalls Sanghvi.
'When I first visited them, I did feel a bit awkward at the arrangement,' recalls journalist and former BJP MP Balbir Punj, who lunched at Vajpayee's home frequently. 'But they were all so normal and natural with each other that I was put at ease.'
'Vajpayee treated Professor Kaul with utmost respect, as a teacher and guru,' says Punj.
A decade older than Vajpayee and Rajkumari, Brij Narain was a respected elder for them both, and they both cared for him equally, as much as they cared for each other.
'All three of them were very mature individuals. In the house they all had separate bedrooms. Vajpayee called Mr Kaul "Kaul Sahab" and treated him as a family elder,' recalls Punj.
Brij Narain not only accepted Vajpayee and Rajkumari's friendship, but also remained admiring and constantly solicitous about Vajpayee. 'Has he eaten his lunch yet?' 'How was his speech, did it have enough josh?' were questions he would often ask Punj.
Not only did he take an active interest in Vajpayee's speeches, he also often advised him on politics and which direction the BJP should take.
Punj remembers the relationship between Vajpayee and Rajkumari as an informal and jokey one, as well as often argumentative.
Punj once arrived for lunch to find that Rajkumari was not at home and that the lunch laid out was a healthy, spartan fare of dry rotis and vegetables. Vajpayee loudly expressed his disgust and proceeded to the kitchen to rustle up his famous speciality: Puris deep-fried in shuddh ghee.
When Rajkumari arrived and noticed the puris, she flew into a rage, saying, 'What is this? Why are you eating oily puris? How could you use shuddh ghee?' Vajpayee, who hadn't yet begun to eat, responded hotly: 'Well, the food you provide is very ashuddh!'
Vajpayee always addressed Rajkumari as 'Mrs Kaul'. She was rarely seen in public and was never his official hostess -- a role usually played by Namita. But she was a constant presence in his home, a grey-haired, pleasant-faced lady in a sari. Gossip swirled frequently.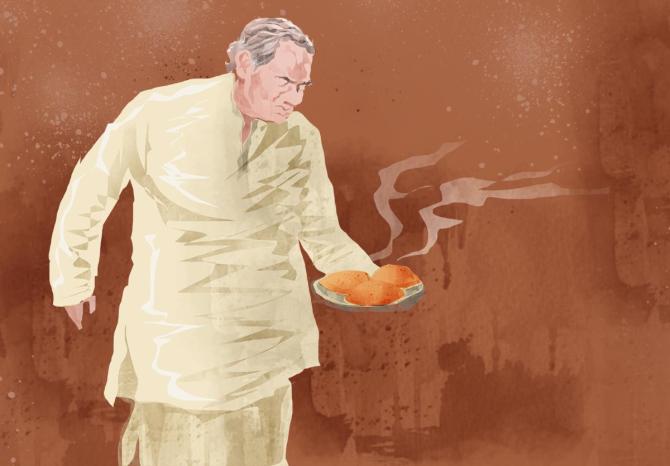 During a lively press conference in 1978 when Vajpayee was foreign minister, suddenly, a young journalist got up and hurled the million-dollar query: 'Vajpayeeji, forget Pakistan, China and Kashmir, can you tell us about Mrs Kaul?' A stunned silence descended. Unfazed, Vajpayee thought for a while, then replied with smiling eyes, 'Kashmir jaisa maamla hai [The matter is a bit like Kashmir].'
On another occasion, when another journalist asked why he had never married, he replied it was because he was in search of the ideal wife. Did you not find her, asked the journalist. 'Yes, I did find her, but she too was in search of the ideal husband,' responded Vajpayee.
In another interview he said, 'My life got taken over by events, I got caught up in them and vivaah ka muhurat nikal gaya [the time for marriage passed by].'
Did he have any affairs, the interviewer rather boldly asked him. He didn't deny it, just chortled: 'Affair ka charcha nahin kiya jaata hai saravajanik rup se [Affairs are not spoken of publicly].'
Still another time, when asked about his bachelor status, he remarked, 'Main kunwara hun, brahmachari nahin [I'm a bachelor, not a celibate].'
Vajpayee first met the Haksar family in Gwalior and became a close friend of Rajkumari's brother Chand Haksar. As students at Victoria College in Gwalior, they were immediately attracted to each other.
Rajkumari, nicknamed 'Bibi', was the educated, attractive daughter of a well-born family which moved in the town's elevated social circles, someone unafraid to voice her opinions and argue on politics.
They were both striking young people, Rajkumari with her flashing dark eyes and Vajpayee a magnetic young man with a captivating charm, burning with the ambition to be noticed. There were very few women in college in those days, and Vajpayee was overawed by Rajkumari.
Yet, however attractive Vajpayee the college debating star may have been and however much Rajkumari admired him, for the clannish Kashmiri Pandit Haksars, the shakha-going youth from Shinde ki Chhawani was not a suitable boy for Rajkumari.
Relationships between young men and women were disapproved of, and a friendship with someone outside the Kashmiri Pandit biradari was strictly out of bounds for a Kashmiri girl. Their 'romance' remained unspoken.
There is a story that Vajpayee once left a letter for her in a book in the college library. She replied to the letter and left it in the same book, but for various reasons it never reached him.
Worried by the high-spirited Bibi's friendship with Vajpayee, her family hurriedly brought her to Delhi, and her marriage was arranged to the scholarly college teacher Brij Narain, the wedding taking place later in Gwalior.
Rajkumari settled down in Delhi with Brij Narain Kaul, and as Vajpayee began to forge his way up the political ladder in the Jana Sangh to Parliament, the friendship of their youth was rekindled.
In her only interview -- to a women's magazine in the 1980s -- Rajkumari said Vajpayee and she had a mature relationship which few could understand and they never had to explain their relationship to her husband. Besides, the friendship that husband and wife shared with Vajpayee was so strong that the nasty rumours never touched them.
Vajpayee, recalled Mehta, 'loved all the good things of life, good food and drink and the company of beautiful and accomplished women. He had a glad eye too.'
The lifelong RSS man was also a rebel against stifling traditions, never hiding that he drank alcohol or ate meat, and impatient with the deceit that politicians in India practised in their personal lives in contrast to their public image.
'Jaisi ki taisi nahin, jaisi hai, waisi hi sahi [Be not this or that, be just as you are],' he once wrote. Recalls Sudheendra Kulkarni, 'Vajpayee was socially highly liberated, often irreverent... he had no double standards.'
After Vajpayee's term as prime minister ended, when members of the Haksar extended family visited Rajkumari in Krishna Menon Marg, where Vajpayee lay bedridden and almost comatose, Rajkumari and her sister received guests gracefully, laying out an elaborate high tea.
'Bibi didda, kya Atalji se mil sakte hain? [Can we meet Atalji?],' one of the Haksar relatives once asked. 'Woh toh humein nahin pehchante, tumhe kaise pehchanenge [He doesn't recognize even me, how is he going to recognize you],' Rajkumari replied sadly.
When Rajkumari, who had been ailing for several years, died in 2014 at the age of eighty-six in the middle of the general election campaign that year, the press release announcing her death described her as a 'household member' of former prime minister Vajpayee, and the Indian Express called her 'the most unknown other half'.
That even in the midst of an acrimonious election battle, then Congress president Sonia Gandhi quietly visited Vajpayee's home to pay her last respects to Rajkumari Kaul, that apart from top BJP politicians like Sushma Swaraj and Arun Jaitley, even then Congress worthies like minister Jyotiraditya Scindia attended her funeral, shows that, unacknowledged as she was publicly, she was a respected member of the former prime minister's family. Even the judgemental RSS sent two senior functionaries, Suresh Soni and Ramlal, to her funeral.
Vajpayee, bedridden after his 2009 stroke, could not attend.
This edited excerpt from Atal Bihari Vajpayee by Sagarika Ghose has been used with the kind permission of the publishers, Juggernaut.
Feature Presentation: Aslam Hunani/Rediff.com