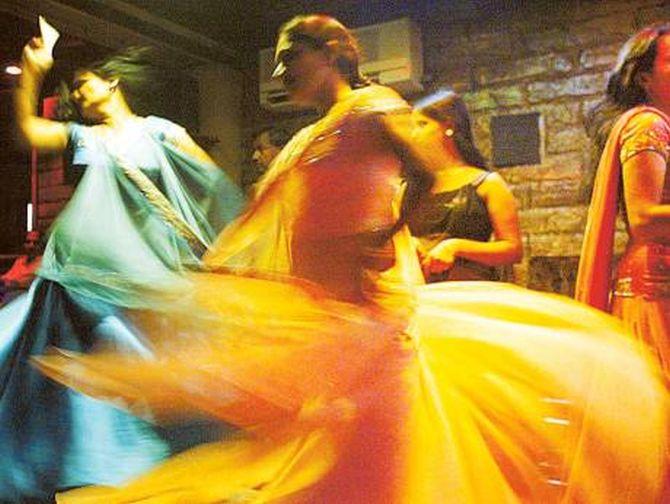 Touching bar dancers or throwing money at them can now land you in jail besides facing a Rs 50,000 fine.
This stringent provision is envisaged in a draft bill finalised by the Maharashtra government to regulate dance bars in the state post lifting of a ban on them.
According to the draft law, the act of touching bar dancers or throwing currency notes at them will attract imprisonment of six months and/or a penalty of Rs 50,000.
It also proposes a hefty fine of Rs 25 lakh for illegal operation and a deadline of 11:30 pm up to which it can operate.
The proposed legislation was approved at a meeting chaired by Chief Minister Devendra Fadnavis at Vidhan Bhavan. The bill would be tabled in the ongoing session of legislature.
"Vulgar" dances or actions will not be allowed and bar dancers are not to be skimpily dressed and these entertainment outlets will not be permitted within 1 km of educational institutions and places of worship, according to the bill.
Fadnavis had earlier formed a 25-member committee with legislators from all parties to deliberate on the issue and make suggestions. The panel was appointed after the Supreme Court lifted the 2005 ban on dance bars a few months ago.
The draft law makes it mandatory to install CCTV cameras at the entrance of dance bars and on the dance floor. The owner will have to keep the CCTV footage for 30 days. It suggests a fine of Rs 10 lakh or imprisonment for 3 years for the owner if a dancer is found to be exploited.
It said such entertainment outlets will not be allowed to stay open after 11.30 pm (earlier the deadline was 2 am).
The proposed legislation suggests deployment of women security guards. Waitresses and bar dancers have to give their consent if they wish to work after 9.30 pm.
Consumption of alcohol will be allowed at these outlets but drugs will be strictly prohibited. Also, it will be mandatory for the bar owner to maintain personal record of all employees. Women under the age of 25 would not be allowed to work as dancers.
The owner will have to sign an agreement specifying the monthly salary and other details, including contribution towards provident fund and other miscellaneous benefits, with employees.
The owner will have to maintain a register of all employees and their attendance is to be recorded through biometric system.
If an illegal dance bar (without licence) is found to be in operation, the owner will be liable for a fine of Rs 25 lakh and/or imprisonment for five years. The offence will be non-bailable and cognisable.
The draft suggests those visiting dance bars must be over 25 years and carry a valid age and identity proof.
Meanwhile, softening its stand on seeking a complete ban on dance bars, the Opposition suggested stringent regulatory provisions in the proposed law to make it difficult for anyone to open a dancer bar in the state.
"We have suggested stringent provisions that would make it virtually impossible for anyone to start dance bars," Nationalist Congress Party member and Leader of Opposition in Council Dhananjay Munde said.
"We managed to convince the CM to consider our suggestions as R R Patil (late NCP leader and then Home Minister) was credited with banning dance bars," he said.