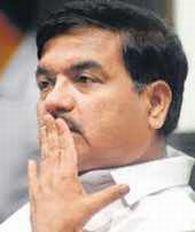 As home minister I would expect R R Patil to think of protecting women. He doesn't evoke a sense of pride and security. He is singularly obsessed with banning things, says N Suresh.
When Maharashtra Home Minister R R Patil says anything, I now take it with a pinch of salt. In a recent controversy, Patil was alleged to have said that even if he had to place one policeman in every household, attacks on women wouldn't stop. He later clarified that he had been misquoted and that he said that in a majority of cases, the accused is known to the victim.

Even if one considers that he was misquoted, the patriarchal mindset is evident. As home minister I would expect him to think of protecting women. He doesn't evoke a sense of pride and security. He is singularly obsessed with banning things that can add income to the state; ban anything that can actually bring public together, have more life on streets. He has no concept of 'security' and his singular achievement is banning dance bars.
It is a matter of shame that the recent bill to ban dance bars is in violation of a Supreme Court order and actually amounts to contempt of court. I personally hope the bar dancers go ahead and file a case against Patil. He has made the issue so personal, it is almost like an ego problem.
Thousands of women have been rendered jobless, it has impacted tourism and Mumbai's night life.
But then what else can you expect from a minister who after the 26/11 terror attacks, trivialised the incident by saying, 'Bade bade shehron mein aisi choti choti bate hoti hai (Such small incidents occur in big cities).' At that moment I realised that life is of no value and significance in the city.
It reminded me of Dalit poet Namdeo Dhasal who in his poem Mumbai equated the city with a sex worker. The minister ridiculed the city and its women.

This same mindset prevails. Most of the promises made by Patil after November 26, 2008 terror attacks haven't been fulfilled. Security has been compromised. After the recent fiasco Patil went on to tell a television news channel, 'If we need more police, we will hire.'
Every single day laws are being broken, every day women are being attacked, every day the police breach the rights of citizens, refuse to lodge FIRs and every day the law is broken by the force that is paid from our taxes to protect us.
People are forced to get off the streets at night, couples stealing tender moments are beaten by cops, police forcibly enter private parties and flout all rules to arrest citizens.
This isn't what we want from our protectors, Mr Patil.
It is time this government is made to realise constructing skyscrapers can't make this city of international grade. It requires an attitude which our moral policing government does not have.
R R Patil and his feudal fellow politicians will want us to believe that the only problem we are facing today are that of dance bars.