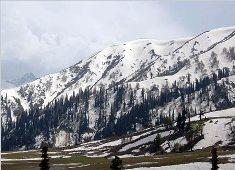 Fresh tremors on Wednesday shook Bhaderwah belt of Doda district where a panic-stricken elderly woman died of a heart attack while fleeing from her home. Sixty-one-year-old Naseema Begum suffered the cardiac arrest while running out of her house during tremors on Wednesday morning in Soti village of the district, officials said.
She was taken to a hospital, where she was declared as brought dead, they said. Three moderate intensity earthquakes and five after shocks shook Bhaderwah valley and adjoining areas in Doda-Kishtwar belt of Jammu and Kashmir triggering fresh panic among the people.
The moderate intensity tremors of 4.8, 5.3 and 5.0 on the Richter Scale shook Baderwah valley and adjoining areas of Doda-Kishtwar belt at 1.28 am, 1.30 am and 1.33 am on Wednesday, MeT officials said. The tremors were followed by aftershocks at 2 am, 2.12 am, 2.33 am, 4.41 am and 7.30 am.
A total of 33 tremors have been recorded in the Bhaderwah-Doda-Kishtwar belt during the past fortnight with maximum 11 on May one. Meanwhile, fresh snowfall occurred in mountainous belts of Bhaderwah valley in Jammu and Kashmir even as the plains witnessed rainfall.
There was fresh snowfall in Kailash mountain range and Ashapati glacier surrounding Bhaderwah valley on Tuesday night, officials said on Wednesday. This triggered extreme cold wave conditions in the valley, forcing the dwellers to wear warm clothes and to light up bonfires as most of the people spent night in the open due to fear of quakes that shook the area in the wee hours on Wednesday.