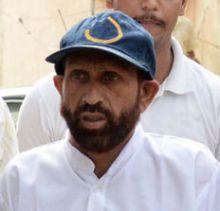 The National Investigating Agency may not oppose bail application of suspected Hizbul Mujahideen terrorist Liyaqat Shah, who was arrested by the Delhi police for his alleged role in a conspiracy to carry out terror attacks in New Delhi.
The NIA, which took over the case on the direction of home ministry after Shah's arrest on March 28 had generated conflicting versions from Delhi and Jammu and Kashmir police, has already interrogated him. Sources said no evidence about Shah's involvement has been found by the NIA officials during his interrogation.
Forty five-year-old Shah, who was arrested by the Delhi police special cell on March 20 from Gorakhpur in Uttar Pradesh, had yesterday approached a special NIA court seeking bail. The court will hear the matter on Wednesday. Shah was claimed to be arrested by the Delhi police on March 15.
The court had on April 26 sent Shah to NIA's custody for five days after the agency had said they needed to take Shah to Sunauli border, one of India-Nepal crossing points near Gorakhpur, from where he was allegedly arrested. Early this month, Shah was sent to judicial custody till May 18 after the NIA told a court that they did not require his further custodial interrogation.
Shah's arrest has brought to fore differences between the Delhi police and the J-K police giving conflicting versions over his arrest. While the Delhi police had claimed to have foiled a 'fidayeen' (suicide) attack in the national capital ahead of Holi with his arrest, the J-K Police insisted he was one of those who had exfiltrated in 1990s and returned to India to surrender under the state's rehabilitation policy.