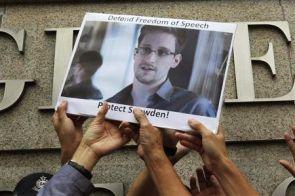 The American whistle blower's request for asylum has been rejected. Sheela Bhatt examines the controversy

American whistle blower Edward Snowden has been officially denied entry to India. According to a source in the ministry of external affairs, "Earlier on Tuesday our embassy in Moscow did receive a communication dated June 30 from Edward Snowden."
The source says, "That communication did contain a request for asylum." As expected Snowden's request has been denied.
The MEA official said, "We have carefully examined the request. Following that examination we have concluded that we see no reason to accede to it."
There is discontent amongst many strategic analysts against Minister for External Affairs Salman Khurshid's stand on the fallout of the Snowden's leaks. The news of the US National Security Agency's bugging the Indian embassy in Washington alongwith the embassies of 37 other countries has been taken lightly by India.
The earlier report that the US has been spying on internet and telephone data from India too did not generate strong protest from the Indian government. The Communist Party of India-Marxist said Tuesday that, "The United Progressive Alliance government should have strongly protested against such surveillance and bugging. Instead, it is shocking that the Khurshid has sought to justify the snooping by stating that "It is not snooping. It is only computer study and analysis of patterns of calls."
The CPI-M further says, "India has a foreign minister who is not worried that the Indian embassy in Washington is bugged by the US intelligence agency. This shameful remark has come at a time when even the close allies of the United States like Germany and France have protested against the US snooping."
Many retired diplomats told rediff.com that UPA government is bending over backwards in supporting the American stand over snooping.

A diplomat, who has served in Russia and few western countries, says, "The snooping on other countries and the common global citizen is a very serious issue and the issue of Snowden's human rights is another issue. India can have a stand similar to America on Snowden but under any circumstances how can Khurshid support snooping and buy American line in toto? It's an embarrassing moment."
A former ambassador and expert on India-US relations says, "Even China and Russia are treading carefully over giving a helping hand to Snowden so we understand India's stance but how can America get away for mass-scale snooping? How can we stand with them? It's a crime."
Snowden, according to the latest report in The Guardian, "Has withdrawn his request for political asylum from Russia, the Kremlin said on Tuesday, further adding to the uncertainty over the US whistleblower's future."
The Guardian reports that, 'A spokesman for Russian President Vladimir Putin said Snowden withdrew the request after Putin's statement making clear that he could stay only if he stopped harming US interests.'