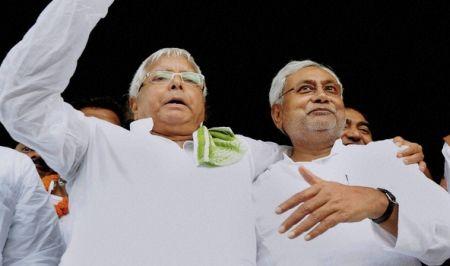 Days after he ranted at Bihar Chief Minister Nitish Kumar, saying he is not a 'PM material', Rashtriya Janata Dal member of Parliament Mohammad Taslimuddin on Saturday said there is no sushashan (good governance) in Bihar as there prevails 'Maha Jungle Raj'.
"It is futile to talk of good governance, now it can be said that there is Maha Jungle Raj in Bihar," Taslimuddin said.
Training guns at Kumar's ambition of becoming prime minister, the RJD MP dubbed him as 'mad man' who is wandering everywhere by launching campaign against liquor.
"The chief minister is wandering everywhere trying to cash in on the liquor ban in Bihar. He has gone mad to think that he will become the prime minister of the country," he added.
When asked about the reason behind his criticism of the incumbent chief minister with whom his party has an alliance, the five-term MP said he won't be silent on wrong things.
"We are in an alliance, so what? Does that mean that we have registered ourselves and when Lalu remains silent we would follow him," he shot back.
Taslimuddin had earlier said Nitish Kumar is not a 'PM material' and he is 'day dreaming of becoming the prime minister' as he has failed to provide sushashan in Bihar.
He also said Kumar has failed to rein in the spate of killings that have taken place in recent past in the state.
While Nitish is busy projecting himself as a face for the 2019 general elections, there have been rise in criminal cases.
The Bharatiya Janata Party alleged that the law and order system in Bihar has crippled. BJP's Jungle Raj barb grew even stronger after the Gaya road rage case, involving the son of a Janata Dal-United leader.