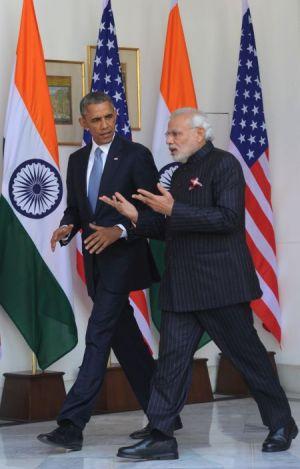 It is for the companies and the industry to ascertain where they want to run with the US-India civilian nuclear agreements reached by Washington and New Delhi, says United States Assistant Secretary of State Nisha Biswal. Aziz Haniffa reports for Rediff.com from Washington, DC
Assistant Secretary of State, Nisha Desai Biswal, the Obama administration's point person for South Asia, strongly dismissed the contention that the US nuclear industry was viewing the US-India civilian nuclear deal with skepticism and the FAQ-style notes put out by the Nuclear Energy Agency had not exactly dispelled the industry's doubts.
Biswal, providing an update to journalists on the happenings in South Asia, said, "We had a major breakthrough in advancing the civil nuclear cooperation and that we, the United States, and the Indian government reached understandings on these issues of nuclear liability."
"The Indian side has put forward certain additional information and clarifications on their interpretations. We are exchanging information and -- on those details between our two countries as well," she said.
The ball was now squarely in the court of the companies and the industry, where they want to run with the agreements reached by Washington and New Delhi, Biswal argued.
"At the end of the day the industry will have to draw their own conclusions and make their own decisions with respect to the commercial opportunities that exist and the parameters under which they're ready to start down that path," she said.
Reiterating India's good faith negotiations and defending what New Delhi had brought to the table, she asserted, "We believe that India has clarified its compliance within the Vienna Convention on Supplementary Compensation, and that that has provided an understanding on which we believe this can move forward."
She added, "They've also put forward additional information with respect to insurance pools that can also, I think, provide additional risk mitigation. And so I think that from our perspective, these understandings are important in being able to advance civil nuclear cooperation and move towards commercial opportunities."
Reporters brought out concerns raised by nuclear companies that a contract cannot supersede statute or the courts, and so in essence, it can't supersede the liability law. Also, the Indian NEA has explained in the contract, the ability to channel liability to the supplier can be left out -- essentially that it doesn't have to be enforced through the contract.
Asked for clarity on these concerns, Biswal said, "I'm not going to get into the weeds. I think that the government of India is providing further information and clarification through their Q&A that they have been putting forward, and I think that there have been some additional statements, including by the prime minister, that also, I think, provide further clarity."
"And we also know that, for example, we are in the process of exchanging communication that help to clarify these issues, and so I'm not going to get ahead of that process," she said.
Biswal explained, 'We have an ongoing process, and the contact group is continuing its work to address any areas that require further clarification, but we do believe that the understandings that were reached between the United States and India during the visit of the president fundamentally address the outstanding concerns that we had and advance civil nuclear cooperation. So in that sense, we do believe that this was a significant breakthrough.'
When reporters persisted if it had now ceased to be an issue between the two governments, that it was now up to the private sector, and if Washington and New Delhi will remain engaged or disengage, she said, "I would say that there is both. I mean, we have an ongoing process."
Elaborating, Biswal said, "The contact group that was launched during Prime Minister Modi's visit to the United States in September has met at least 4 or 5, maybe half a dozen, times over the run-up to the president's visit at the end of January. But it will continue to meet to engage and to address any areas that require further agreement or further clarification as we move forward."
"But we also recognise that, beyond the government-to-government understandings and agreements, private companies will need to make their own determinations and draw their own conclusions. They will need to have their own conversations to advance the commercial investments that they are contemplating."
Asked if the Obama administration has asked Prime Minister Modi if India will join the coalition in the campaign against the ISIL terrorist group, Biswal acknowledged, 'We have certainly had very robust discussions between our two governments, including at the leader level, about the threat that violent extremism poses, and specifically the threat posed by ISIL, and ways that we can work together to counter that threat.'
"Whether India decides to formally join the coalition to combat ISIL or whether India takes other steps is for India to determine. But we value and welcome the cooperation between our two countries, which is certainly growing and deepening on issues of combating terrorism and combating violent extremism."
Image: US President Barack Obama and Prime Minister Narendra Modi hold talks at Hyderabad House during the US president's India visit in January. Photograph: MEA/Flickr