The Bharatiya Janata Party and the Rashtriya Swayamsevak Sangh say they will ensure that the university does not come up at the temple town. Vicky Nanjappa reports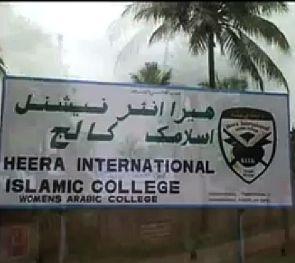 The Andhra Pradesh government may be in denial over permission granted to construct the Heera Islamic University at the temple town of Tirupati, but official documents dated March 8, 2010, clearly show approval to construct a building on a temple pond land.
Bhanuprakash Reddy, BJP's spokesperson in Andhra Pradesh, who has taken up the task to stop the Islamic university, told rediff.com that the whole issue is a mischief by the state government.
Reddy says permission for the project was granted on March 8, 2010, for construction by the Heera Group on survey number 4-2 A/1 B.
"Looking at the government's order of March 8, there are two direct violations. Firstly, it is against a Supreme Court order that clearly states temple pond land -- a part of which has been used for the construction -- cannot be granted for any sort of construction," says Reddy.
"Secondly, while granting permission the order made it clear that only a ground floor and a floor above that can be built. But today the construction is six-storied. How has this escaped the eye of the authorities, who today conveniently claim no permission was granted?"
"The antecedent of Nowhera Shaikh, who is building the Islamic university, is shady. Majlis-e-Ittehadul Muslimeen's Asaduddin Owaisi had filed a complaint against her in 2012. The complaint against the managing director of Nowhera Shaikh's company states that she has been cheating people by inviting investments for her company."
"The case today is being investigated with the Enforcement Directorate. We will blow the lid off this lady who is setting up a university illegally. We also have records to show that a counter intelligence team's report from 2007 stating that this lady is a suspicious character."
"We will ensure that this university does not come up. We are taking the help of historians and archaeologists who will prove beyond reasonable doubt that the university is coming up on a land that originally housed a Vishnu temple (Thimappa temple). We are not against the minorities but such things are totally uncalled for and are aimed at disrupting peace."
"Let us understand that there is no huge Muslim population in the area and hence there is no meaning of such a university. The temple falls under Chitoor district which only has nine per cent of Muslims compared to 44 per cent in Hyderabad. Does such a university have any meaning? Is the intention not something else, aimed at disrupting peace? There are intelligence reports to suggest that Tirupati is already under the radar or terrorists. Is such a development required at this stage? We demand that there should be no construction allowed in a 50 kilometre radius of the temple premises."
Rashtriya Swayamsevak Sangh leader, in charge of the organisation's media and public relations, and member of the national executive, Ram Madhav says the university should not come up.
"There are bound to be protests and we hope better sense prevails. We are confident that the construction commenced only after a government order. It makes no sense to have a university there. It is nothing but an act of mischief to disrupt peace. They could have chosen Hyderabad for such a university. Why Tirupati, which is a Hindu town housing one of the holiest Hindu shrines?" adds Madhav.
"It is an attempt to flex their muscle and provoke. But then this leads to nothing good. Tirupati is a holy shrine and considered sacred irrespective of religion. Mecca is a sacred place for the Muslims. They would not like the idea of a construction coming up there. None of us would ever do that, we respect religious sentiments."