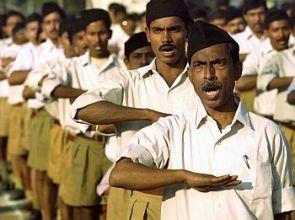 Congress will fight against Rashtriya Swayamsevak Sangh and not BJP in the next Lok Sabha elections as the Sangh is now in control of the saffron party, Union Minister Jairam Ramesh said on Sunday.
"The next general elections will be fought directly between Congress and the RSS and not BJP under Narendra Modi as its prime ministerial nominee. What has taken place in BJP recently has had the stamp of the RSS," the Rural Development Minister told reporters in Patna.
"The key of BJP's electioneering in the 2014 general elections will be handled by the Nagpur-headquarted RSS too," he said.
He alleged that it would make efforts to communally polarise Uttar Pradesh and Bihar in particular as part of its electoral strategy and the process had already begun with the recent riots in Muzaffarnagar and adjoining districts in UP.
He said Congress, on its part, would run its election campaign on positive agenda and highlight its achievements of enactment of five landmark legislations including Food Security Act and Land Aquisition Act aimed at catering to the aspirations of the poor.